Summary
Meg Ryan's children feel embarrassed by a particular scene from the movie When Harry Met Sally, where she fakes an orgasm in a deli.
In an interview with Carol Burnett for Interview Magazine, Ryan shared that her son and fellow actor Jack Quaid had recently stayed in a hotel across from the deli where the scene was filmed.
Both of Ryan's children described the scene as a "very unique embarrassment."
When Harry Met Sally star Meg Ryan reveals that one scene in particular from the iconic rom-com embarrasses her children. The movie, which premiered in 1989, follows Harry (Billy Crystal) and Sally (Meg Ryan), two friends who slowly realize they are in love with one another over the course of many years. One of the most iconic scenes from the movie involves Sally faking an orgasm while eating with Harry at a deli.
Interview Magazine recently ran a piece where Meg Ryan spoke with Carol Burnett in a phone call conducted prior to the SAG-AFTRA strike. She revealed that she had recently spoken on the phone with her son and The Boys star Jack Quaid while her daughter Daisy True Ryan was in the room. Quaid revealed that he was staying in a hotel across from the deli where Ryan filmed the infamous scene, which led both of her kids to share that the scene was a "very unique embarrassment" for them. Read Ryan's full quote below:
Yeah. It's funny, my son just called me this morning, and he's in New York staying at a hotel that's right across the street from Katz's Deli. My daughter was here and everybody was on speaker, and they were like, "Mom, this is a very unique embarrassment." [Laughs] He said, "You know you can go into that deli and there's an arrow pointing down to the table where you shot that scene." I wonder if it's the right one.
When Harry Met Sally's Deli Scene & Location Explained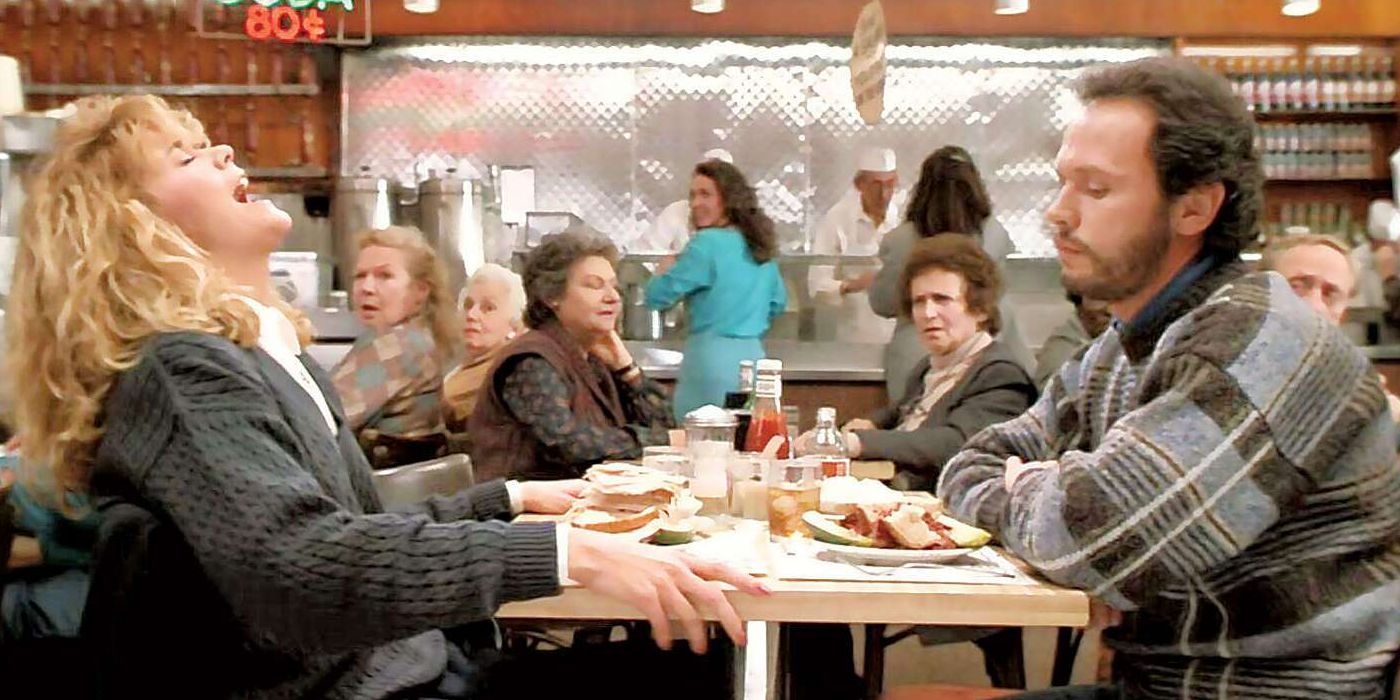 The scene in question takes place when Harry doubts that women can successfully fake orgasms, leading Sally to prove him wrong by performing a realistic orgasm in the middle of the lunch rush. The moment ends with one of the other customers (played by director Rob Reiner's mother Estelle) saying "I'll have what she's having." The scene has been parodied multiple times and referenced in projects as varied as Notting Hill to Pixar's Ratatouille, with Reiner's line landing at No. 33 on AFI's 100 Years…100 Movie Quotes list.
The sequence was shot at the real-life Katz's Delicatessen, which is located at 205 East Houston Street in Manhattan. Quaid is correct that the deli, which is still operating, does celebrate the iconic moment. A round yellow sign hangs above the booth where Sally sat, reading "WHEN HARRY MET SALLY… HOPE YOU HAVE WHAT SHE HAD – ENJOY!" with an arrow pointing downward.
Meg Ryan having this iconic When Harry Met Sally as part of her legacy might indeed be embarrassing to her children. However, Jack Quaid has likely paid his mother back in kind. Quaid, who is an actor in his own right, is part of Prime Video's The Boys cast and has appeared in a variety of raunchy episodes including the luridly titled "Herogasm," which features a superhero orgy.
Source: Interview Magazine