Summary
The executive producer of Twisted Metal explains the significance of lighting Sweet Tooth's "head on fire," a feature fans were looking forward to.
Showrunner Michael Jonathan Smith wanted to include iconic elements from the game and made it a priority to showcase Sweet Tooth's flaming head.
Sweet Tooth's transformation in the live-action adaptation closely resembles his appearance in recent video game installments, and his backstory is explored in the show.
Twisted Metal's "head on fire" moment is being explained by executive producer Carter Swan. The show follows John Doe (Anthony Mackie), a courier with amnesia, who travels across a post-apocalyptic world in order to deliver a mysterious package. On the way, he encounters several terrifying criminals, including Sweet Tooth, portrayed physically by Samoa Joe and voiced by Will Arnett. The killer clown, a recognizable figure from the Twisted Metal video games, is often depicted with flames on his head, and fans got to see that in live-action during the final two episodes of season 1.
In a recent interview with TV Insider, Swan discussed the significance of lighting Sweet Tooth's "head on fire." He revealed that Sweet Tooth's flames were something Twisted Metal's showrunner Michael Jonathan Smith wanted to feature, and added that there were two instances of it. Read Swan's comments regarding Sweet Tooth's "head on fire" below:
I can't underscore it enough: The people who worked on this show are all fans, and we all love the game. Showrunner Michael Jonathan Smith was such a massive fan and did such a great job at identifying those iconic things, and that was always a priority for him: How can I weave these little intricacies that people remember from the game throughout the show? The flaming head of Sweet Tooth was one of 'em that early on he was mentioning, 'I have to have that in there.' It actually happens twice. There's a shot in the second episode where he's walking in front of a fire, and he's in slow motion, and it looks like it. And then later on actually doing it was important to him and something that he honestly figured out and put a lot of time and thought into to weave in there because that was one of those moments. He's like, 'We got to have this in there. That's so Sweet Tooth, he's got to have his head on fire.'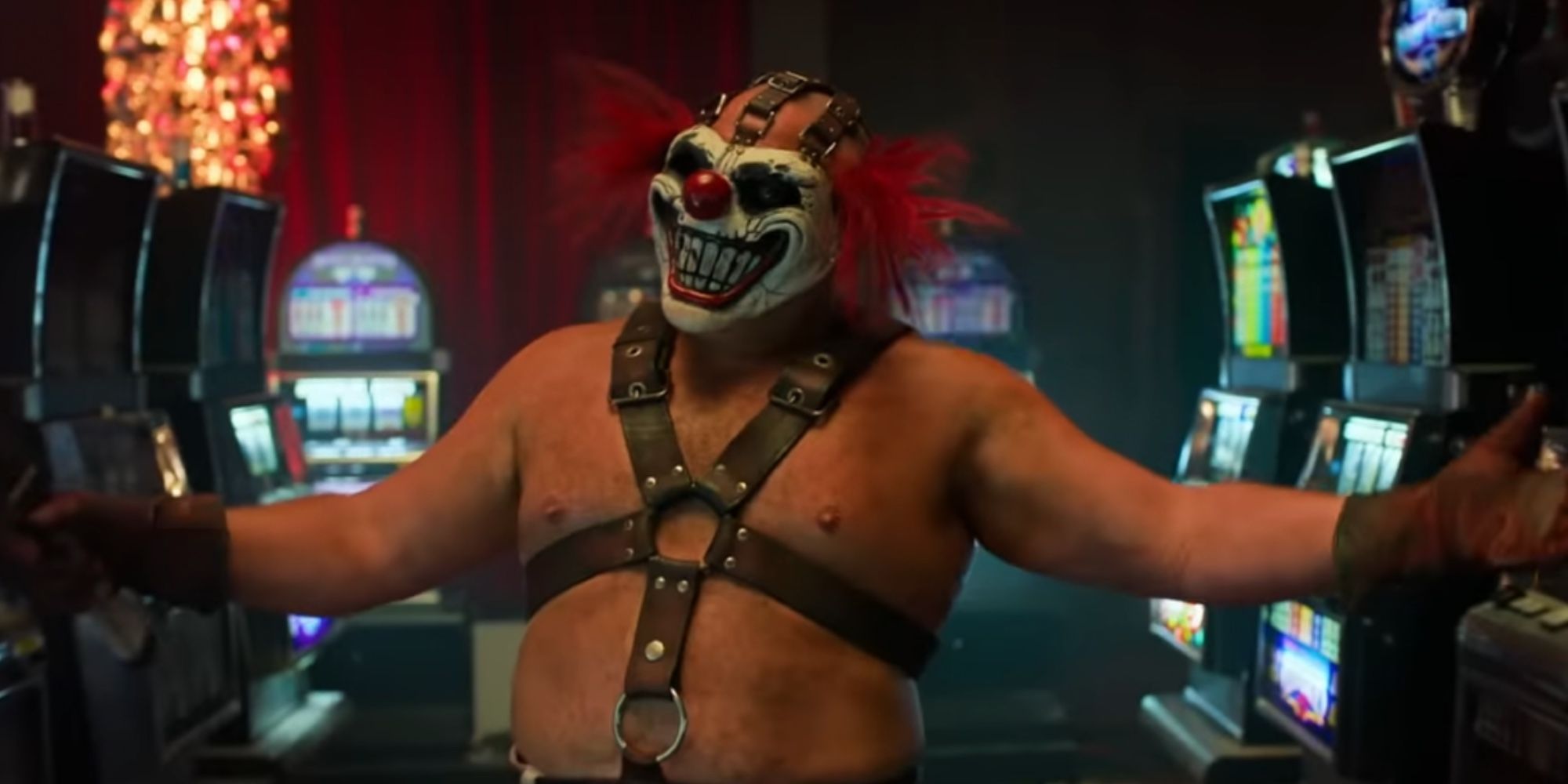 Sweet Tooth has evolved throughout the video game franchise, in terms of appearance, though in recent installments, he's depicted as having a large frame and horrifying mask/smile, which closely resembles his live-action counterpart. He also drives an ice cream truck and was revealed to be a former asylum patient, with the Twisted Metal show touching on that history in episode 7 titled, "NUTH0UZ." The show expands his story by demonstrating how he became violent at a young age and suggesting that his father was also problematic.
Because Sweet Tooth is played by Joe, a professional wrestler, he appears to present more of a physical challenge for John Doe and his partner, Quiet (Stephanie Beatriz), however, audiences were anticipating his fiery head. The one moment Swan described, from earlier in the series, did not feature real flames, except for those in the background. It finally happened when Stu (Mike Mitchell) took a lighter to his scalp at the end of episode 9 at Sweet Tooth's request, which created an instant fire.
Given how popular the PlayStation games are, it makes sense that a Twisted Metal live-action adaptation would contain a lot of Easter eggs. Sweet Tooth, one of the more well-known characters, might get some new details to his story, but the "head on fire" likely excited many longtime fans. Looking forward to a potential season 2, it will be interesting to see if there is more of that, and what other references the show could make.
Source: TV Insider