Highlights
YouTube has launched a new gaming service called Playables, even after the Google Stadia shutdown, showing its commitment to online gaming.
Playables is a library of games that can be played directly on YouTube, similar to Google Play Store's Instant Apps but with full access to games.
The scope of the Playables test is unclear, and there is no guarantee that it will roll out globally, as YouTube often experiments with features that may not be implemented.
A new YouTube gaming service for desktops and mobile devices, called Playables, is now rolling out to select users. Its soft launch indicates that the Google Stadia shutdown from early 2023 did not dissuade YouTube from continuing to experiment with online gaming offerings.
The Playables platform has been in the works for a while now, having first been mentioned in a late June report claiming that YouTube started testing the new online gaming service by inviting its own employees and Google staffers to join it. The company declined to confirm its existence at that time.
RELATED: PewDiePie Makes Big Return to YouTube
It now did so via an update on the YouTube Help pages, as first spotted by 9to5Google. Specifically, a YouTube community manager revealed that the company began rolling out the service to a limited subset of users as of September 5. Anyone who is currently part of the test should now see the new Playables section on the YouTube home feed. Much like its name implies, this portion of the site is meant to operate as a library of games that can be played directly on YouTube.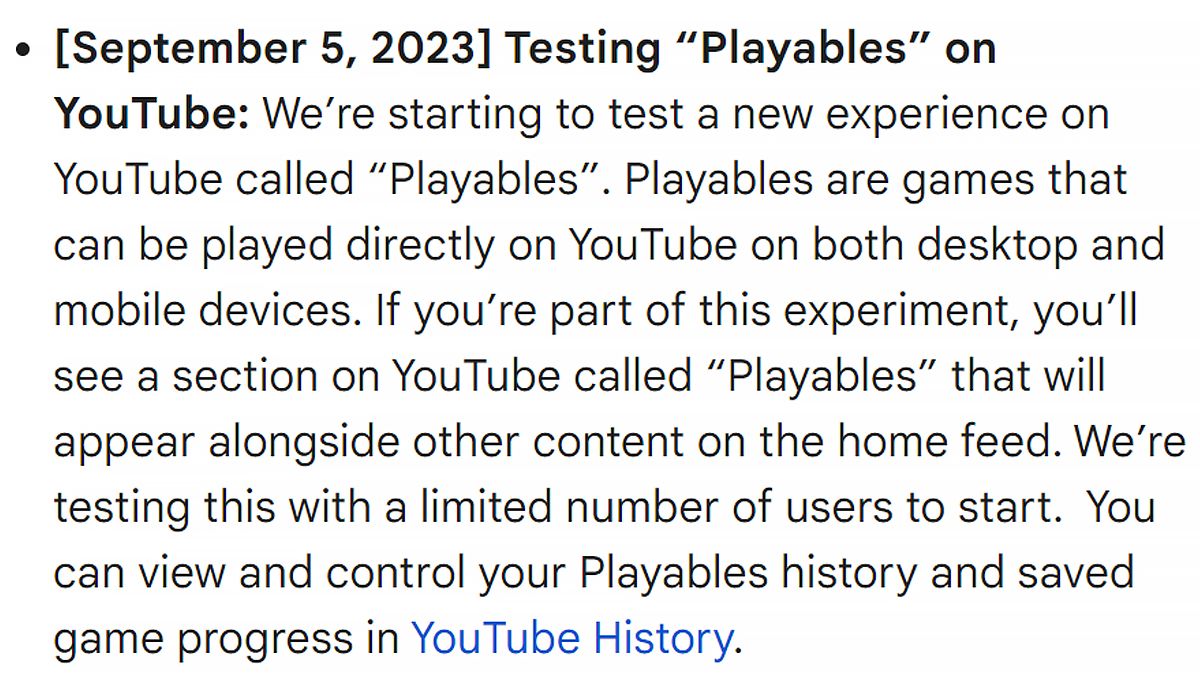 The solution thus seemingly has some overlap with Instant Apps, a Google Play Store feature first introduced in 2016 that allows mobile users to try out supported Android games and other apps without installing them. But unlike that previously introduced functionality, all Playables will be available to YouTube users in full, whereas Instant Apps were merely intended as demos. Playables are also essentially platform-agnostic by virtue of being integrated into YouTube, allowing them to be accessed from desktop browsers and mobile devices.
YouTube historically tests its experimental features by rolling them out to random users in predetermined markets. However, the company has yet to elaborate on the scope of its Playables test. Anyone wanting to check whether they have been included in the ongoing rollout should make sure that they are logged into YouTube with their Google Account before looking for the new feature on their device of choice.
The arrival of this soft launch does not necessarily guarantee that Playables will ever roll out globally. Like most other Google subsidiaries, YouTube frequently experiments with features that never see the light of day. It is also no stranger to shutting down those that do, as most recently underlined by the June 2023 discontinuation of YouTube Stories. Whatever fate awaits Playables, the feature itself likely isn't Alphabet's first online gaming experiment in the post-Stadia world, with one recent report claiming that Google was working with publishers on new cloud gaming projects as of March 2023.
MORE: Online Games That Were Affected By Stadia's Shutdown
Source: YouTube, 9to5Google