The Big Picture
Bugs Bunny returns to introduce Buster Bunny to his new mentor in the upcoming series Tiny Toons Looniversity, set to premiere on Cartoon Network.
Buster Bunny is surprised to learn that he will be mentored by a character named Merlin the Magic Mouse instead of Bugs Bunny, who has been a mentor to Buster since the original series Tiny Toon Adventures aired in the early 1990s.
Tiny Toons Looniversity premieres on Cartoon Network on September 9.
Bugs Bunny is back for another school year at Acme Looniversity. Cartoon Network has released a new clip from the upcoming series Tiny Toons Looniversity, which also features Tiny Toons star Buster Bunny. Tiny Toons Looniversity is set to premiere on Cartoon Network on Saturday, September 9. In the clip, Buster Bunny (Eric Bauza) is excited at the thought of being mentored by Bugs Bunny (Jeff Bergman). However, when Bugs then tells Buster that he will actually be mentored by a character named Merlin the Magic Mouse, he's devastated. Merlin then dramatically introduces himself to Buster, but unlike the other Looney Tunes characters, Buster doesn't recognize him. After introducing Buster to his new mentor, Bugs quickly leaves the classroom.
Bergman reprises his role as Bugs Bunny from the original series, Tiny Toon Adventures, which aired from 1990-1992. Bergman also voiced the character in The Looney Tunes Show, New Looney Tunes, and Space Jam: A New Legacy. Throughout the original series, Bugs was a mentor to Buster. In the series' first episode, Bugs helped Buster and Babs Bunny launch the series and create Acme Looniversity. In one episode where the school holds a dance, Buster tries to recreate a dance he saw Bugs do in an old cartoon, although it didn't go the way he had planned. The original show's series finale was a parody of It's a Wonderful Life — in the episode, Buster had a guardian angel, who was later revealed to be Bugs in disguise.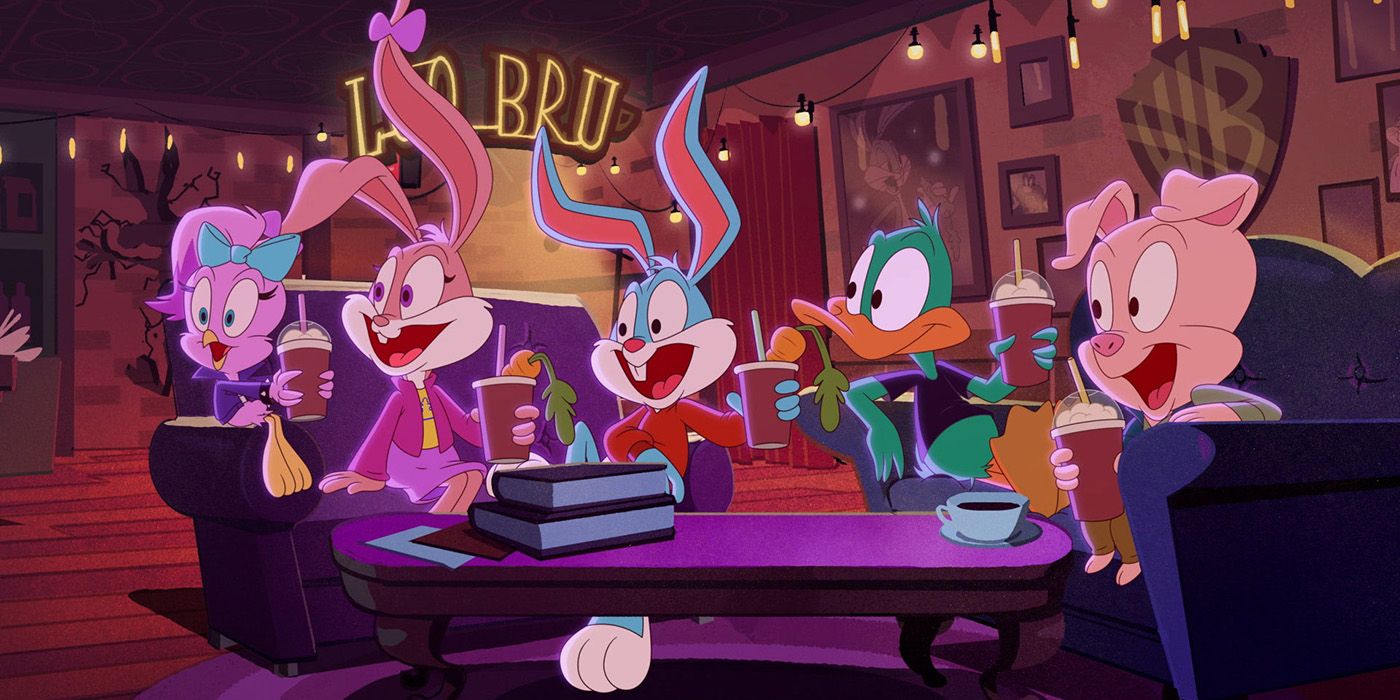 Where Else Can You Find the Looney Tunes Characters?
Tiny Toons Looniversity isn't the only show that features Bugs Bunny right now. He currently features in the series Bugs Bunny Builders, which also airs on Cartoon Network. In the series, Bugs is voiced by Bauza. Earlier this year, Bugs also appeared in new episodes of Max's Looney Tunes Cartoons series. One of the Looney Tunes characters will also return to the big screen. The upcoming film Coyote vs. Acme will star Wile E. Coyote.
Tiny Toons Looniversity is scheduled to premiere on Cartoon Network on Saturday, September 9. In the meantime, check out the new clip for the series below: