The Big Picture
Stunt coordinator Koji Kawamoto fulfilled a dream by working on the live-action adaptation of One Piece and incorporated manga and anime poses into the fight scenes.
Kawamoto had to find a balance between the exaggerated movements in the manga/anime and making Zoro's stunts believable, which involved lots of experimentation and even putting a real sword in his mouth.
The result was fantastic, with Zoro becoming a fan-favorite character and fans eagerly awaiting future episodes and a potential second season on Netflix.
When you set out to make such an important piece of pop culture as One Piece come to life, you need to make sure that you're striving to make every aspect of it work. One element in particular that fans were eager to see in live-action format was Roronoa Zoro's (Mackenyu) fight style: the pirate hunter uses three swords to fight his enemies, and one them is held between his teeth. In an interview with Collider's Arezou Amin, stunt coordinator and katana expert Koji Kawamoto talked about pulling off such a daring action performance.
During the interview, Kawamoto revealed that being able to work with the stunt department of One Piece was basically a dream come true, since he's a fan of the anime series and also other titles like widely popular Naruto and Bleach. The stunt coordinator also commented that there was a lot of training with Mackenyu in order to make Zoro's fighting style look authentic and, of course, cool:
"I tried to incorporate poses and movements from the 'One Piece' manga and anime into the sword action I have been doing. I imagined how Zoro's pose would look like, how he would attack, how he would move, and so on."
In manga, the idea of movement is mostly left to the reader's imagination and in anime the characters are able to move in ways that would be otherwise impossible for human beings of flesh and blood. So, Kawamoto had to find a middle ground between doing what is done in the manga and anime and finding a down-to-earth anchor that would make Zoro's stunts believable. That involved lots of "moving and experimenting" and actually putting a life size sword in his mouth and feel how it moved when "gripped" between his teeth.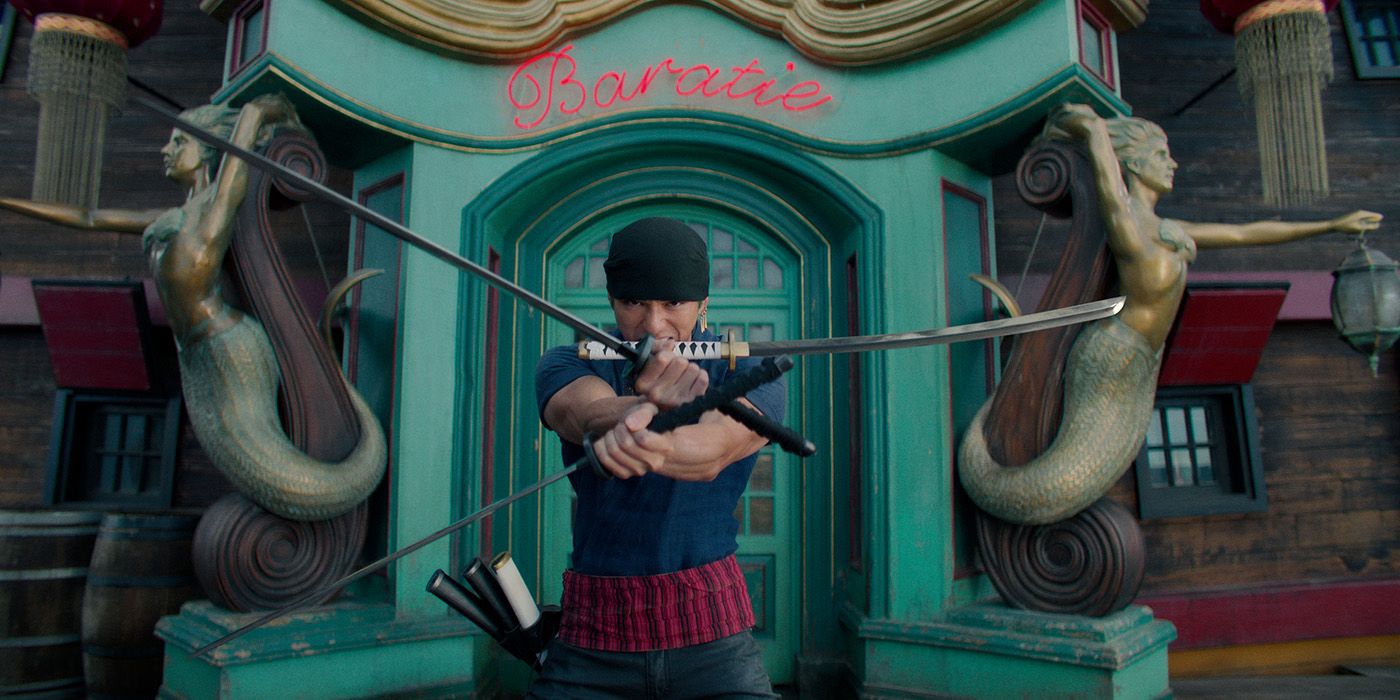 Zoro Rocks, And So Does One Piece
The result, as fans have already screamed all around the internet, was fantastic. Zoro became a fan-favorite character for the third time in the One Piece franchise, and everyone's already eager to see what he does with his swords in future episodes. With the excellent results that the series has presented ever since it premiered, it's just a matter of time until Netflix announces that the franchise will come back for Season 2 – and Kawamoto also expressed his excitement to work with Mackenyu again in more episodes.
While the announcement doesn't come, however, we can go back and take a closer look on the Easter eggs that are spread all over the eight episodes of the series, reflect on why the series managed to stand out when manga/anime adaptations tend to fail and even speculate on what arcs a possible second season would cover. You can stream all episodes from One Piece on Netflix now.