Just over 10 years ago, Naughty Dog changed the game—quite literally—with their third-person post-apocalyptic take on zombies in The Last of Us video game. Like the Cordyceps infection, the game's popularity spread rapidly, earning it critical acclaim and a loyal fanbase. That popularity eventually brought the franchise to our television screens, with Pedro Pascal and Bella Ramsey starring as Joel and Ellie in the high-profile HBO series. Now, Naughty Dog and Universal are offering our readers an awesome opportunity to step into that world of The Last of Us in the brand-new Universal's Halloween Horror Nights' The Last of Us™ House, a live adaptation based on the video game that started it all.
Video game adaptations are notoriously difficult to get right, despite—or perhaps because of—their established following. In 2022, however, HBO bottled lightning with Neil Druckmann and Craig Mazin's The Last of Us, when they introduced a new crowd to Joel Miller (Pascal) and Ellie Williams (Ramsey), along with other fan favorite characters from the game. Having already amassed a huge following of gamers, the series expanded the love for Naughty Dog's dystopian world, which Universal's Halloween Horror Nights is bringing to life in an immersive adaptation based on the original game.
This year, Universal Studios Hollywood and Universal Orlando Resort are bringing the carnage of post-apocalyptic Pittsburgh to Halloween Horror Nights, and you and a guest have a chance to experience the adventure of a lifetime firsthand! The Last of Us™ House isn't for the faint of heart. You will traverse the overgrown Quarantine Zone, the dark, dank underground tunnels, and other familiar locations like The Hotel Grand, which Joel and Ellie once explored. As you dive head-first into this fully immersive adventure, be careful not to make a sound… Clickers, Runners, Stalkers, and even nefarious human Hunters, are all out for blood.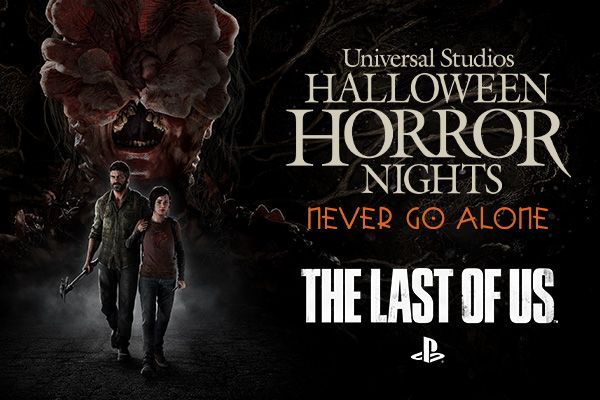 Tickets for The Last of Us™ haunted house are on sale now, and the fun begins on select nights, running from September 1 through November 4 for Universal Orlando Resort and September 7 through October 31 for Universal Studios Hollywood.