The Big Picture
Disney is releasing new merchandise to celebrate the 30th anniversaries of The Nightmare Before Christmas and Hocus Pocus franchises, including Fisher-Price Little People sets.
The Hocus Pocus set features the Sanderson Sisters in their witchy cottage, while the Nightmare Before Christmas set includes Jack Skellington and other iconic characters on the famous twisted hill.
Both franchises have become horror legends and continue to have pop culture relevance through Blu-ray releases, merchandise, and upcoming theatrical releases for their 30th anniversaries.
Disney doesn't have many horror franchises to light up the Halloween season with. However, what they lack in quantity, they more than make up for in quality with The Nightmare Before Christmas and Hocus Pocus franchises. Both spooky pop culture phenomenons are celebrating their 30th anniversaries in 2023. Because of that, Disney's pulling out all the stops with new merchandise to honor the Sanderson Sisters and Jack Skellington's legacy. Now Fisher-Price is getting in on the haunting fun with two new Little People sets based on Nightmare Before Christmas and Hocus Pocus.
The Hocus Pocus set features all three Sanderson Sisters Winifred, Sarah, and Mary while Nightmare Before Christmas includes Jack Skellington, Sally, Oogie Boogie, and Zero the ghost dog. Like most Little People sets, the figures come with a film specific background. The Sanderson Sisters are in their witchy cottage brewing up a deadly potion while Sally and Jack can be seen on the famous moonlit twisted hill from Nightmare. The Hocus Pocus set is going for $19.98 while the Nightmare set is $24.99.
Disney's Family Friendly Halloween
While Hocus Pocus and Nightmare Before Christmas are geared more towards family audiences, that doesn't diminish their importance in the genre. Both remain amazing gateway horror films for younger viewers and serve as great nostalgic relief for an older generation that grew up on them. Their pitch perfect Halloween atmosphere alone is enough to make them annual holiday rewatches, Nightmare having the added benefit of also being a Christmas movie, but it's their rich characters and worlds that keep fans coming back for more ghoulish fun every time.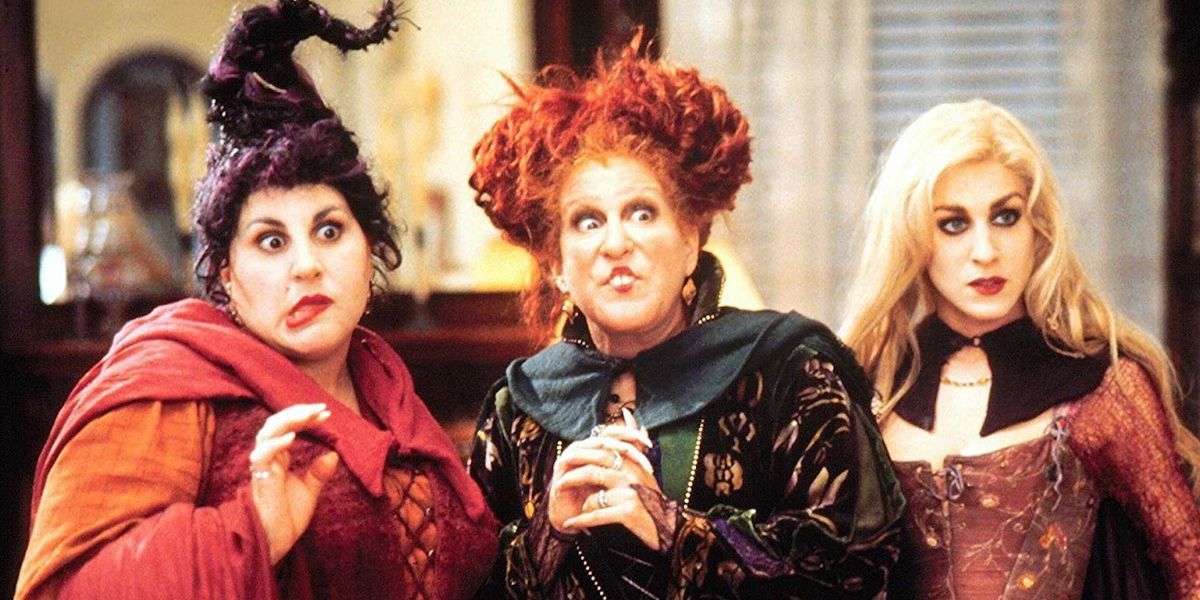 Whether it's the brilliant stop-motion animation and musical score of Nightmare or the classic performances and absurdly charming writing of Hocus Pocus, the Sanderson Sisters and Jack's friends in Halloween Town have become horror legends. Plus, each franchise has kept pop culture relevance thanks to their various Blu-ray releases, endless sea merchandise, and, in Hocus Pocus' case, a long awaited sequel.
Where Can You Stream 'Hocus Pocus' & 'Nightmare Before Christmas'?
The Nightmare Before Christmas and Hocus Pocus are currently streaming on Disney+. However, both films are coming to theaters this October with new special 30th anniversary editions. Until then, you can grab your Hocus Pocus and Nightmare Little People on Amazon now. Check out the sets below: