The Big Picture
Loungefly has introduced a new Wednesday collection inspired by the Nevermore Academy, featuring monochrome tones and the academy's logo, perfect for fans of the Netflix series.
The series, directed by Tim Burton, focuses on Wednesday Addams and has gained immense popularity, earning critical acclaim.
The show follows Wednesday as she attends Nevermore Academy, uncovering family mysteries and battling a beast. The second season has been announced, but further details are currently unknown.
Loungefly has unveiled a new Wednesday collection inspired by the Nevermore Academy. Fans of the Netflix series will certainly find the new merchandise exciting as it comes with the academy's logo and show related details all in monochrome tones like Wednesday's school dress. The series was an instant hit among fans upon its premiere and in time, inspired many to dress, dance, and talk like the titular Wednesday Addams played by Jenna Ortega. The trend continues with the new merchandise.
The Loungefly collection includes the Nevermore Cosplay Mini Backpack which comes finished with Thing on top. Other Wednesday merch to get your hands on include a crossbody bag, a zip around wallet, a cardholder, and pins. The collection will add a detailed touch for the next cosplay event for any fan.
'Wednesday's Chart Topping Success
Directed by horror auteur Tim Burton, the series breaks away from the previous Addams Family iterations and focuses just on their smart, sarcastic daughter. Ortega had some pretty big shoes to fill but nonetheless, she carried the series to fans' satisfaction garnering fans' love as well as critical acclaim. Wednesday stands tall as one of Netflix's most-watched series, gaining several Primetime Emmy and Golden Globe nominations in various categories including Best Actress nomination for Ortega.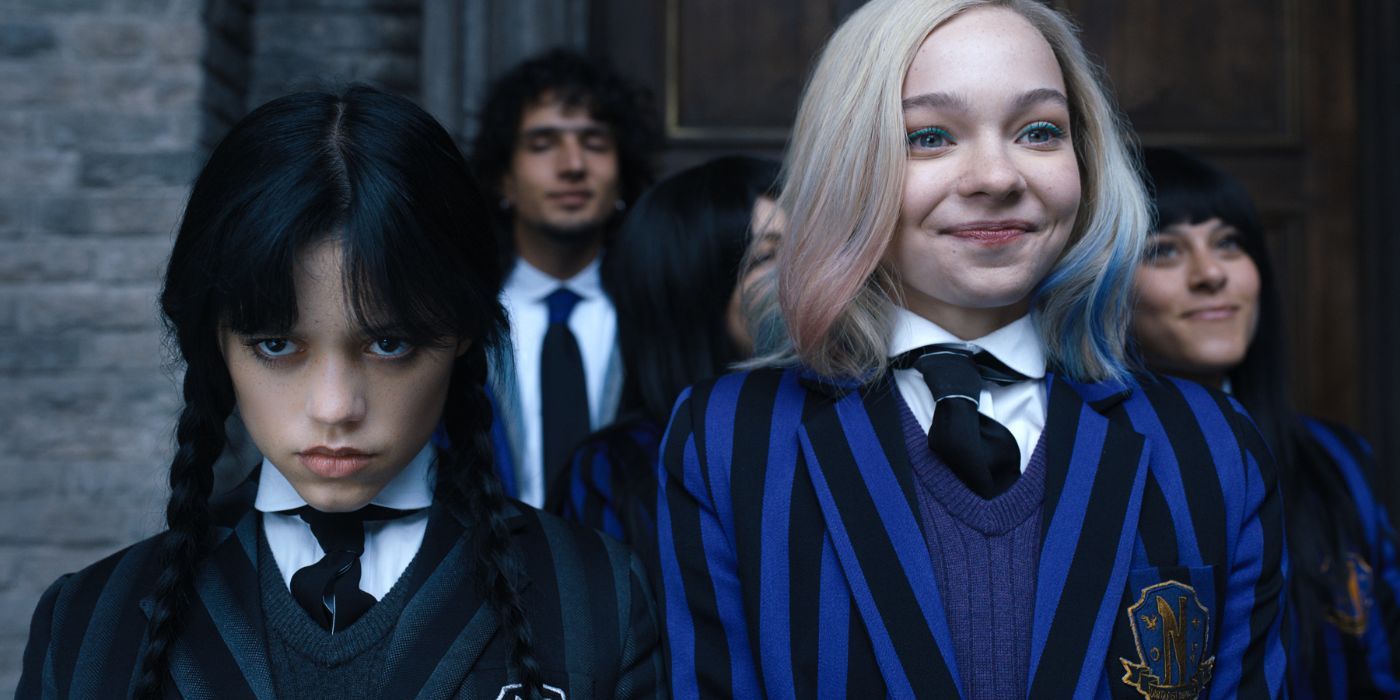 The series sees Wednesday attending her parents' alma mater Nevermore Academy after she is expelled from her current school. At Nevermore, she uncovers mysteries related to her family as she tries to tame a beast that is wreaking havoc on the school. The show makes a thrilling watch as Wednesday separates her friends from her enemies and peels off one layer of mystery after another aided in all her doings by Thing, who is the breakout star of the series. A second season for the series was announced in January this year, however, there are no development details given the SAG and WAG strikes.
Along with Ortega the series also cast Gwendoline Christie as Larissa Weems, Jamie McShane as Donovan, Hunter Doohan as Tyler, Percy Hynes White as Xavier, and Emma Myers as Enid Sinclair in leading roles. Further rounding off the cast are Joy Sunday as Bianca, Georgie Farmer as Ajax, Naomi J. Ogawa as Yoko, and Christina Ricci as Marilyn Thornhill while Victor Dorobantu provides the hand acting for fan-favorite Thing.
The series is available on Netflix and you can order the new Loungefly Wednesday collection here. Ctach a glimpe of the collection below: