The Big Picture
Stranger Things fans can now satisfy their cravings with seven new ice cream flavors inspired by the popular series, exclusively available at Walmart.
Scoops Ahoy, the in-universe ice cream shop, helped refresh the franchise by becoming a fan-favorite spot in Season 3, and its legacy lives on through merchandise like Halloween costumes and Funko Pops.
While there is no set release date for the final season of Stranger Things yet, the cliffhanger at the end of Season 4 is keeping fans eagerly awaiting the next installment.
It's hard to believe that it's been a year since Stranger Things ended its epic fourth season. Fans will have to wait a little longer for the fifth and final season of the Netflix horror series as the ongoing strikes have halted production. For now though, Stranger Things fans turn to a new ice cream based on the series while they wait. Reported by People, courtesy of the in-universe ice cream shop Scoops Ahoy, Stranger Things is introducing seven new ice cream flavors exclusively at Walmart.
The flavors include the U.S.S. Butterscotch, Triple Decker Extravaganza featuring vanilla and butter ice cream, Chocolate Pudding, and Cinnamon Bun Bytes. However, if you want something a bit scarier, Scoops Ahoy has a handful of favors fit for the sinister Upside Down. This includes Mint Flare, Pineapple Upside Down, and The Void. If you don't live in the United States and Australia, have no fear, these flavors will soon be available globally in places like the U.K., Italy, Brazil, Mexico, and Japan.
Scoops Ahoy Helped Refresh The Franchise
While Stranger Things is one of the best shows in recent TV history thus far thanks to a masterful first season, its sophomore season had a few missteps that made fans fear that this series would fall flat. However, Season 3 introducing Starcourt Mall as a new central hub for Hawkins, givinge this nostalgia fueled 80s horror romp the recharge it needed. Beyond the body horror Invasion of the Body Snatchers vibes, this neon lit mall was the star of the show. Especially when it was revealed that the Russians had a secret base under it. That's where Scoops Ahoy came in with everyone's favorite heartthrob Steve Harrington taking a summer job there. With the help of his coworker turned friend Robin, who's now a Stranger Things mainstay, and the rest of Hawkins crew they took down The Mind Flayer in grand fashion.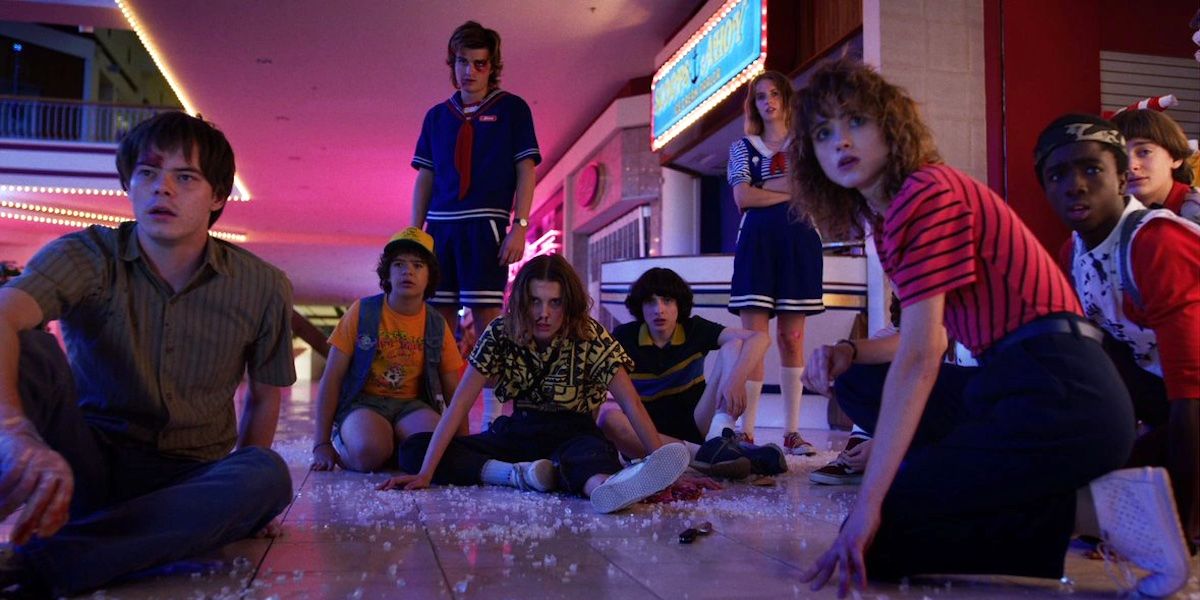 Starcourt Mall became a pile of rubble at the end of Season 3, but its legacy lives on through things like Halloween costumes of Scoops Ahoy uniforms and Funko Pops. The final battle at Starcourt Mall even set up major plot points in Season 4 like Chief Hopper being transported to Russia.
When Is 'Stranger Things' Final Season Releasing?
Stranger Things doesn't have a set release window or date for its final season yet amid the ongoing strikes, but once that is settled we should hear more news on that front quickly after. As such, plot details for the new season are also still locked away in The Upside Down. However, the cliffhanger for Season 4 left us on the haunting note of the famous scary realm merging with the real world. While we wait for Season 5, you can stream the first four seasons of Stranger Things on Netflix now, and you can find more information on Scoops Ahoy's ice cream on Netflix's store. Check out an image of the flavors below: