Highlights
Guerrilla's upcoming multiplayer Horizon game will reuse systems from the mainline entries, Zero Dawn and Forbidden West.
The studio is repurposing existing world and quest systems for the online project.
The online RPG is expected to have longer post-launch support and may be a more contained cooperative experience.
Guerrilla's Horizon multiplayer game will reuse a number of systems from the existing mainline entries, according to some newly surfaced evidence. This bit of insight into the upcoming project, which also includes a hint of its genre of choice, arrives shortly after another leak offered some narrative info about Guerrilla's multiplayer Horizon game.
The Sony-owned developer originally confirmed that an online multiplayer addition to the Horizon series was in the works at The Game Awards 2022 back in December. While the company has yet to officially share any concrete details about the project, its job listings have been a steady source of information about the upcoming game ever since.
RELATED: Very Early Alpha Footage of Horizon Forbidden West Multiplayer Game Leaks
The latest such insight comes from a newly advertised opening in Guerrilla's game code systems team. While the posting is largely technical due to the nature of the position, it does confirm that the first-ever Horizon multiplayer game will reuse some of the tech developed for the first two mainline entries in the series, Zero Dawn and Forbidden West. Specifically, Guerrilla is looking to take advantage of its existing world and quest systems by repurposing them for its online project, the listing reveals.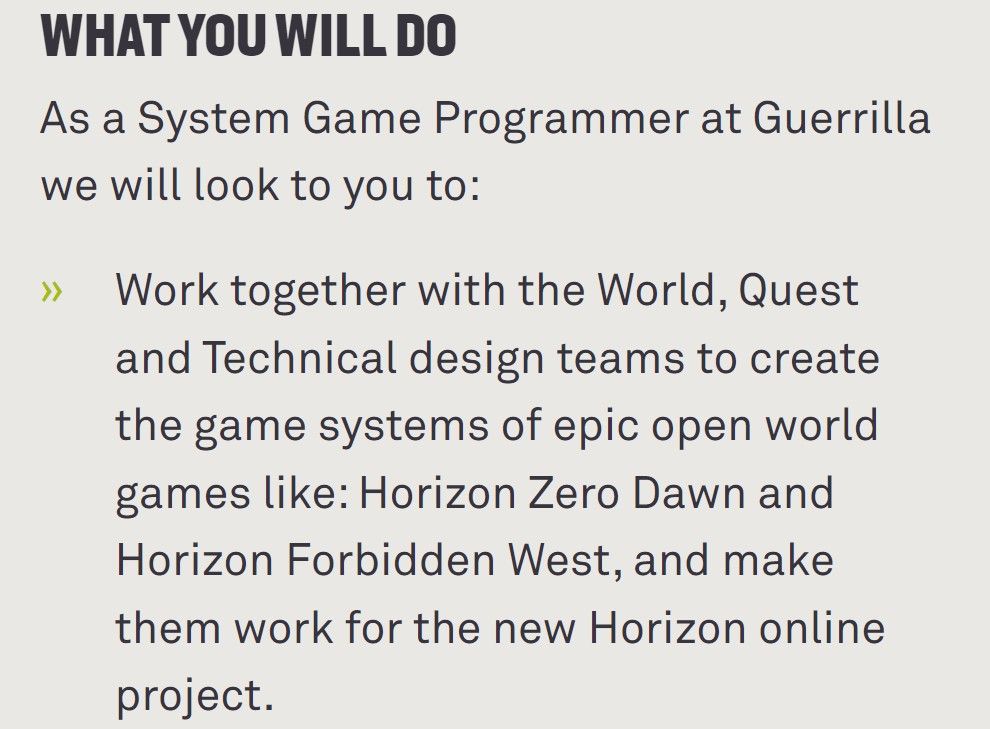 The full extent of the studio's plans to reuse its technology for the upcoming title remains unclear, but the undertaking is unlikely to be a straightforward plug-and-done endeavor, as online multiplayer games come with their own set of unique challenges in terms of data synchronization, balancing, and overall infrastructure scalability. The last time Guerrilla tackled those issues was over a decade ago when it was working on Killzone Shadow Fall, a PS4 launch title with online modes for up to 24 players.
And while Killzone Shadow Fall's multiplayer lobbies are barely active nowadays, the Dutch studio is plausibly hoping that its Horizon spinoff will wield greater staying power, not least because the title will be a "AAA RPG," as spelled out in the developer's latest job ad. Whether that label hints at an MMO like World of Warcraft or a more contained cooperative experience in the vein of Diablo 4 remains to be seen. Regardless, online RPGs historically had longer shelf lives compared to their FPS counterparts.
Given its genre of choice, Horizon's first multiplayer game is likely to enjoy unprecedented post-launch support from Guerrilla. And though the studio recently described the upcoming title as its "next" release, suggesting it will hit the market before the Horizon Forbidden West sequel, the project itself still appears to be years away from going gold.
The Horizon multiplayer game is in development.
MORE: Horizon Forbidden West's Doomsday Clock is a Great Concept