Summary
In the movie Barbie, Weird Barbie represents a version of the doll that has been modified and mishandled over time, and she becomes a source of humor and wisdom.
Director Greta Gerwig wanted Weird Barbie to represent the fate of many Barbies that have been experimented on, with her appearance and behavior reflecting this.
Weird Barbie, portrayed by Kate McKinnon, is seen as a shaman figure and the keeper of everyone's hidden weirdness, bringing an asymmetrical and messed up side to Barbie's perfect image.
Barbie director Greta Gerwig, along with Kate McKinnon, explain the concept behind "Weird Barbie." The film, based on Mattel's eponymous fashion doll brand, follows Barbie (Margot Robbie) who, upon developing sudden changes in appearance and behavior, suffers an existential crisis that leads her to the Real World. McKinnon's character, referred to as Weird Barbie, quickly became a fan favorite, representing a version of the doll that was modified or mishandled over time, and due to her life experience, she was able to help Robbie's "Stereotypical Barbie" throughout the movie.
In a Barbie featurette titled "It's a Weird World," (via Entertainment Weekly) from the film's recent digital release, Gerwig and McKinnon discussed Weird Barbie. The director explained that she resembles a doll that was played with a lot, and McKinnon added that she is "the keeper of everyone's hidden weirdness." The footage also includes Robbie, who noted how the character was "a cross between David Bowie and a hairless cat." Read Gerwig and McKinnon's comments regarding Weird Barbie below:
Gerwig: "You'd brush out her hair and then you decided you want to cut it, then you'd see what happens if you light it on fire and draw all over her face. You put her in the splits and try to change her clothes. I had this idea like, 'Well we have to have a Barbie that represents that fate of so many Barbies.' I wanted her to be funny and wise."
McKinnon: "She is, like, a shaman figure, the keeper of everyone's hidden weirdness. A Barbie's put together. A Barbie is perfect. And Weird Barbie is the one who's allowed to be asymmetrical, messed up. And what we all have inside of us is externalized in this piece of art."
Kate McKinnon's Role In Barbie Explained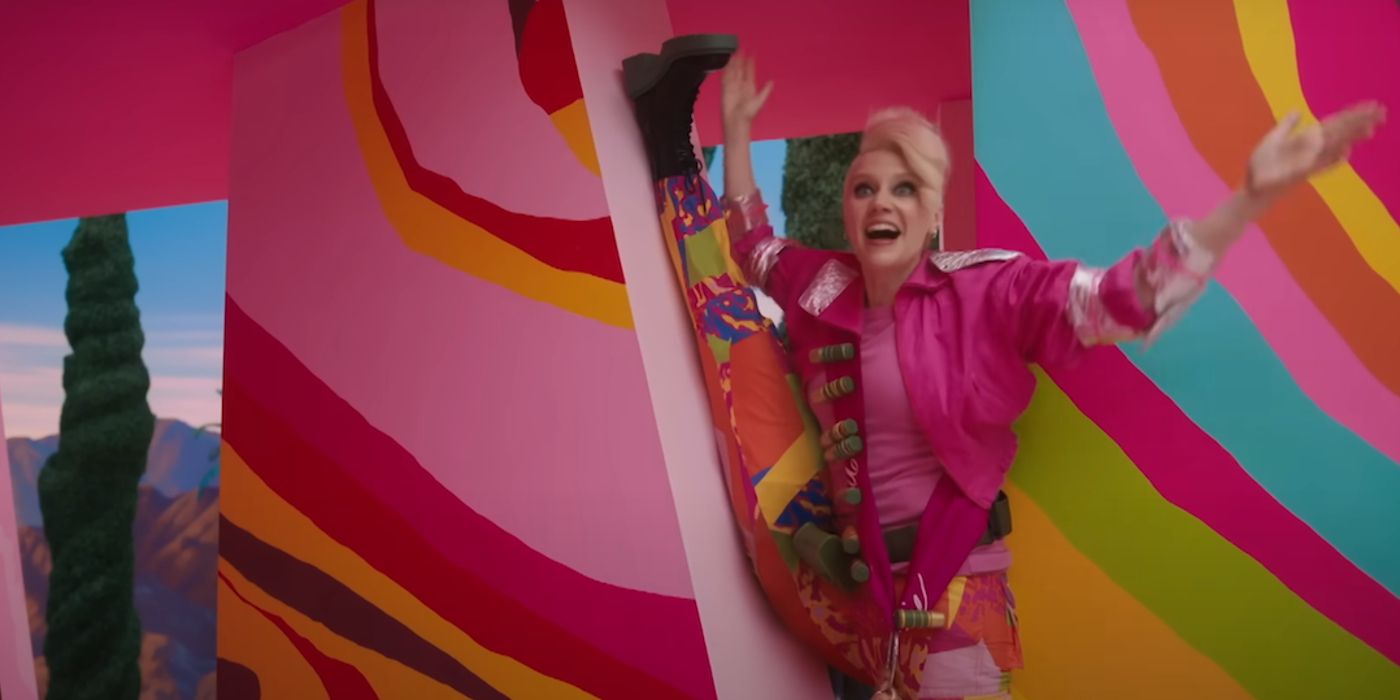 Barbie has been praised for its script, along with Gerwig's creativity in bringing Barbieland, and the characters within it, to life. McKinnon portrayed a hilariously accurate depiction of Weird Barbie, and her strange movements, including the splits, could be a callback to Mattel's original design of non-bendable legs. In the film, while she appears to have beneficial knowledge of the Real World, the rest of the dolls are apprehensive about visiting Weird Barbie, even though she was once similar to them. In her house, Earring Magic Ken, Skipper, Tanner, and other older toys that were no longer made appeared in cameos, indicating she's become a supporter of other ostracized figures.
When Gloria (America Ferrera) visited McKinnon's character in Barbie, she revealed to Sasha (Ariana Greenblatt) that she had a version of Weird Barbie, explaining how they get played with roughly. Towards the end, Weird Barbie also helps the rest of the Barbies take back their world and becomes accepted by everyone else. Given how popular she is, Mattel released their own Weird Barbie doll, though it's not necessarily considered true to the idea.
It's interesting to hear about the concept of Weird Barbie and what went into creating that role. Although she is often a source of humor, her experiences leading up to becoming "weird" make her compelling too. Following Barbie's success, McKinnon's character remains a memorable addition to the cast, and her comments about Weird Barbie should only make audiences enjoy her part more.
Source: EW