Highlights
The Outer Worlds 2 may include multiplayer elements, according to a recent job listing from Obsidian Entertainment, hinting at a significant addition to the game.
The job listing, which seeks a senior network programmer, mentions developing "multiplayer gameplay systems using Unreal Engine," further suggesting a multiplayer feature.
This implication aligns with the possibility of The Outer Worlds 2 being released on PlayStation, as multiplayer games have traditionally been exempt from Microsoft's exclusivity policy.
The Outer Worlds 2 may feature multiplayer elements, some newly emerged evidence suggests. This bit of unofficial insight into the upcoming game represents a potentially significant addition to the list of things that fans can expect from Obsidian Entertainment in the near future.
The Microsoft-owned studio is presently pursuing several projects, two of which—Avowed and The Outer Worlds 2—have already been announced. An April 2023 job listing also suggested that Obsidian is currently working on one other game powered by the Unity engine.
RELATED: This Studio is Assisting Obsidian on Avowed
The implication that The Outer Worlds 2 may feature multiplayer elements stems from yet another opening at the company, which Obsidian started advertising earlier this week. While the listing in question doesn't mention The Outer Worlds sequel by name, it does state that the studio is looking for a senior network programmer who would help it develop "multiplayer gameplay systems using Unreal Engine." That description suggests the opening is unrelated to the aforementioned Unity project, while indirectly ruling out a connection to the Unreal Engine 5-powered Avowed.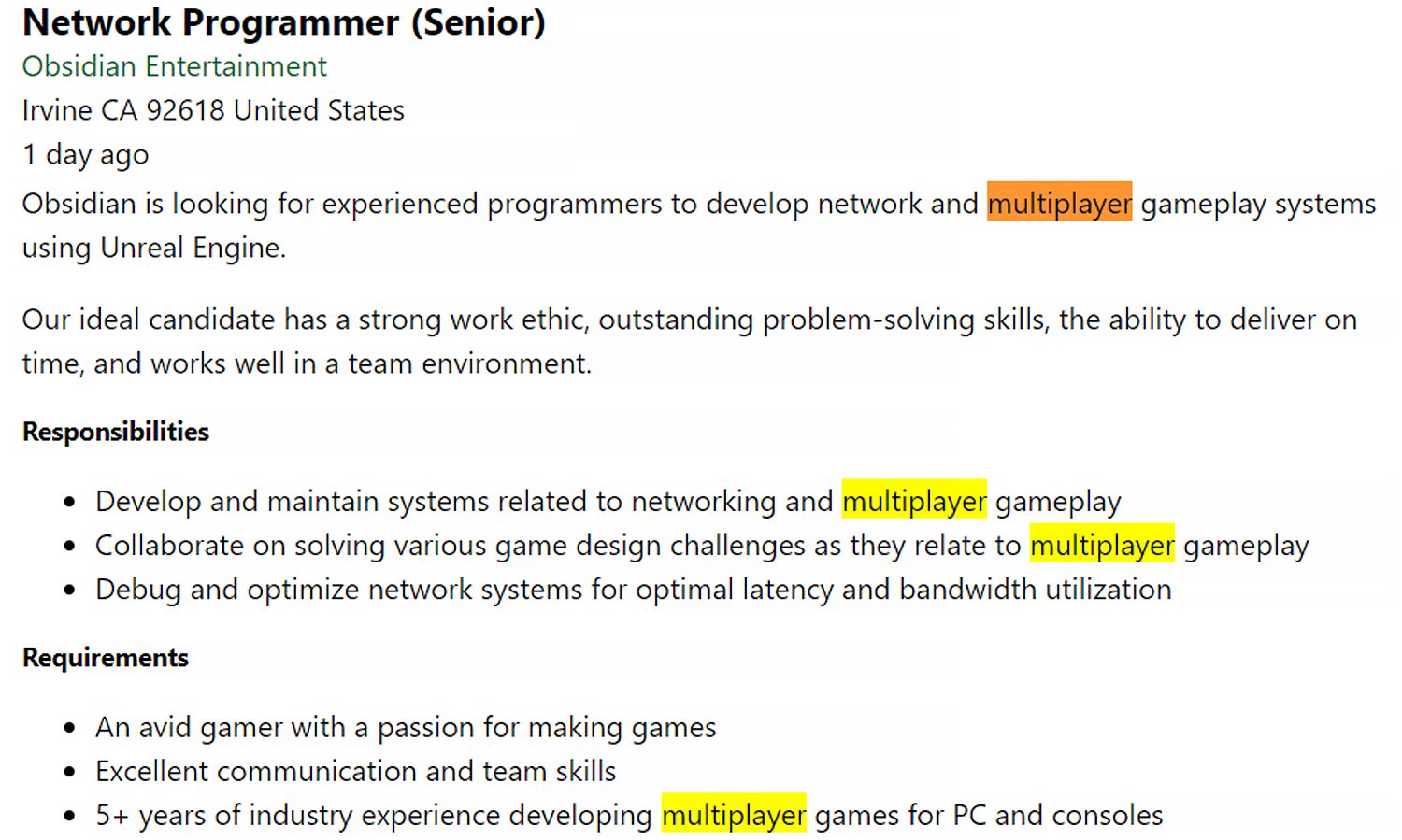 Although Avowed was originally a co-op RPG, Obsidian scrapped its multiplayer aspects at some point during development, as revealed by the company's 20th anniversary documentary published in early August. Discounting the somewhat implausible scenario wherein Obsidian—a studio with fewer than 300 employees—is currently working on four or more projects, this newly emerged job listing appears to indicate that The Outer Worlds 2 will feature some sort of multiplayer functionality.
Although that's not immediately obvious, this implication also dovetails with a recent report suggesting that The Outer Worlds 2 could be coming to PlayStation. Prior to that leak, the upcoming title wasn't expected to reach Sony's ecosystem on account of the fact that Obsidian is nowadays part of the Xbox Game Studios family. However, multiplayer games have so far proven to be partially exempt from Microsoft's policy of withholding first-party content from its fiercest rival. This year's most high-profile example of that phenomenon was the Call of Duty deal that Sony signed with Microsoft back in July.
And while the tech giant clearly had a vested interest in realizing that agreement as part of the bid to push its still-pending Activision Blizzard acquisition over the finish line, the move merely continued its historic tendency to prioritize accessibility over exclusivity when it comes to multiplayer games. That same ambition likely influenced the company's decision to offer Fallout 76 for free to PlayStation Plus subscribers back in January, so it could very well help The Outer Worlds 2 go multi-platform, assuming the upcoming game does end up featuring multiplayer elements.
The Outer Worlds 2 is currently in development.
MORE: After Starfield, The Outer Worlds 2 is Caught Between a Rock and a Hard Place