The Big Picture
Disney+ has released a new poster for their upcoming Percy Jackson and the Olympians series, featuring the titular character Percy holding a sword on a beach.
The poster hints at the core conflict of the series, with Zeus' stolen lightning bolt and a brewing war on Olympus, as lightning strikes in gloomy skies.
The series will follow Percy's journey as he learns about his demigod status, attends Camp Half-Blood, and sets out on a mission across the United States to clear his name and find the real culprit of the theft.
There are still a few months until viewers can head back to Camp Half-Blood, but the anticipation for Disney+'s Percy Jackson and the Olympians only continues to build. The forthcoming television series brings an exciting new adaptation of Rick Riordan's beloved fantasy series to life. Ahead of the series debut on December 20, Disney+ shared a new poster featuring Walker Scobell as the titular young demigod.
The new poster is set on the edges of a beach as Percy kneels in the sand holding a sword. Two large waves frame him, a mighty representation of Percy's demigod powers passed on from his birth father, Poseidon (Toby Stephens). Though Percy will come to embrace his powers of the sea, the poster also highlights the core conflict of the series — Zeus' (the late Lance Reddick) lightning bolt was stolen, and a war is brewing on Olympus. So, the weather on the poster builds upon the tumultuous atmosphere, with lightning striking in gloomy skies.
Percy may be channeling his godly side on the poster, but Season 1 of Percy Jackson and the Olympians will follow the 12-year-old as he grapples with learning that he's a demigod and everything he knew about Greek mythology is real. His journey is kick-started after his teacher — who's actually a monster — attacks him, prompting his mother Sally (Virginia Kull) to reveal the truth. So, Percy heads to Camp Half-Blood. Not only does he meet other kids just like him, including Annabeth (Leah Sava Jeffries) and Grover (Aryan Simhadri), but he also learns that he's, unfortunately, the prime suspect in the lightning theft. In order to clear his name and stop the growing conflict on Olympus, Percy, Annabeth, and Grover trek across the United States to find the real culprit.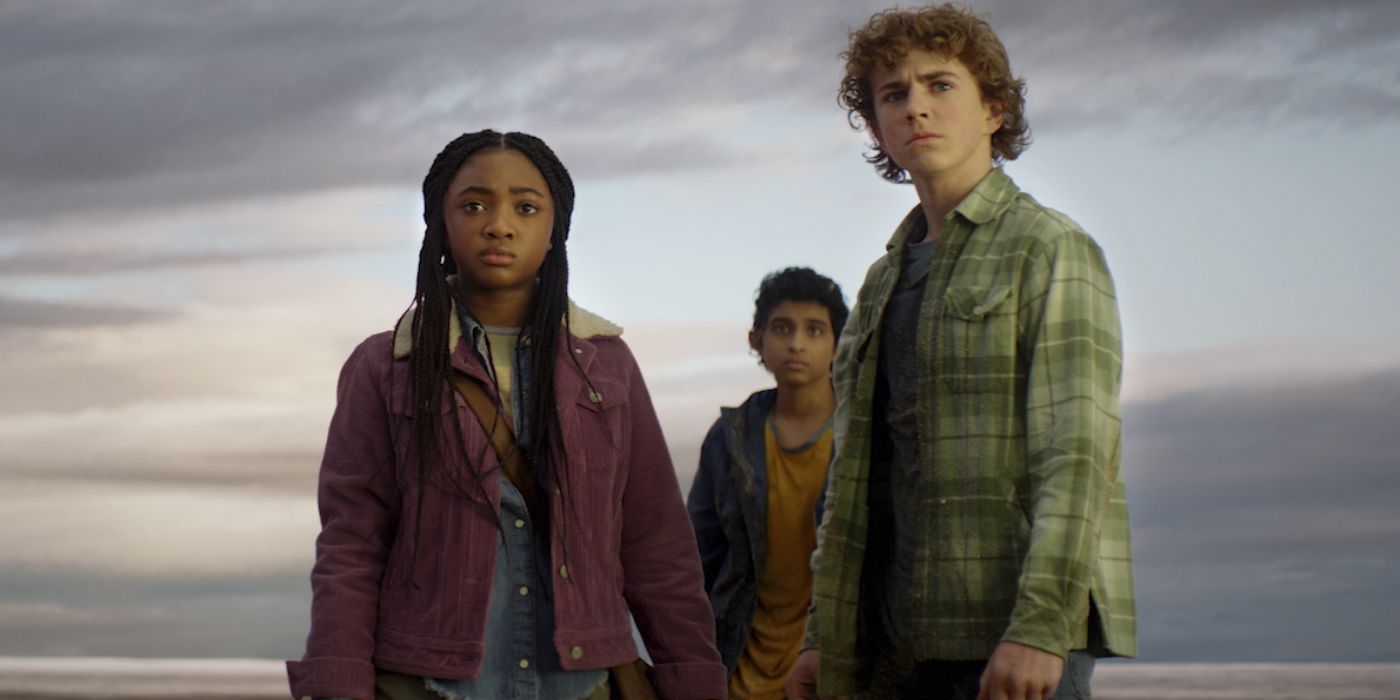 'Percy Jackson and the Olympians' Will Be a More Faithful Adaptation
While the Disney+ rendition of Percy Jackson and the Olympians isn't the first time Riordan's books have made it to screen, it's already shaping up to be the adaptation fans of the book have been longing for. Riordan himself, who has been heavily involved in the creative process this time around, has expressed his excitement for the series multiple times, such as praising Scobell's performance as Percy and remaining hopeful that the series will gain a Season 2 renewal. Additionally, Riordan previously told Entertainment Weekly "that this is the one you've been waiting for. We are involved, and I think you're gonna love it."
Percy Jackson and the Olympians debuts with its first two episodes on Wednesday, December 20 on Disney+. Subsequent episodes will be released weekly on Wednesdays. Check out the new poster below: