The Big Picture
RSVLTS has released a new Nightmare Before Christmas clothing line with five designs including t-shirts and a reversible bomber jacket.
The collection captures the gothic art style and frightful spirit of the franchise, and keeps Jack Skellington relevant in pop culture.
The 30th anniversary of The Nightmare Before Christmas is being celebrated with new merchandise and a theatrical re-release this October.
With Halloween quickly approaching, there are so many ghoulish genre films that are celebrating major anniversaries this year. This includes the family classic The Nightmare Before Christmas from producer Tim Burton and director Henry Selick which turns 30 in 2023. Disney and a handful of other companies have helped Jack the Pumpkin King party in grand fashion with new Funko Pops, toys, a 4K release of the film, and various clothing lines. Now, just in time for October, RSVLTS has unveiled their newest Nightmare Before Christmas collection.
The clothing line features five brand-new designs, four button up t-shirts and one spooky bomber jacket. The first t-shirt design "There Goes My Zero" sees an army of Jack's trusty ghost dog Zero flying through the night sky. Each Zero has a different facial expression perfect for everyone no matter what mood you're in. The next design "Your Worst Nightmare" has a black color scheme for Jack Skellington to take fans through some of the film's most iconic shots and characters. For example there's the moonlit hill and the Mayor getting ready for the annual Halloween festivities.
The third design of the collection, "Lil Jacks," has a pattern of Jack's floating heads with a handful of different facial experiences or variants like his Jack-o-lantern head. The final t-shirt design "Paint the Town Dead" acts as a map for Halloween Town and its surrounding area. Jack's front gate, the twisted hill, and the trees featuring the different holidays can all be seen. Lastly the bomber jacket is reversible with Jack on one side and Zero on the other with a black cat. The button ups will be $70 while the jacket will be $80.
"This Is Halloween!"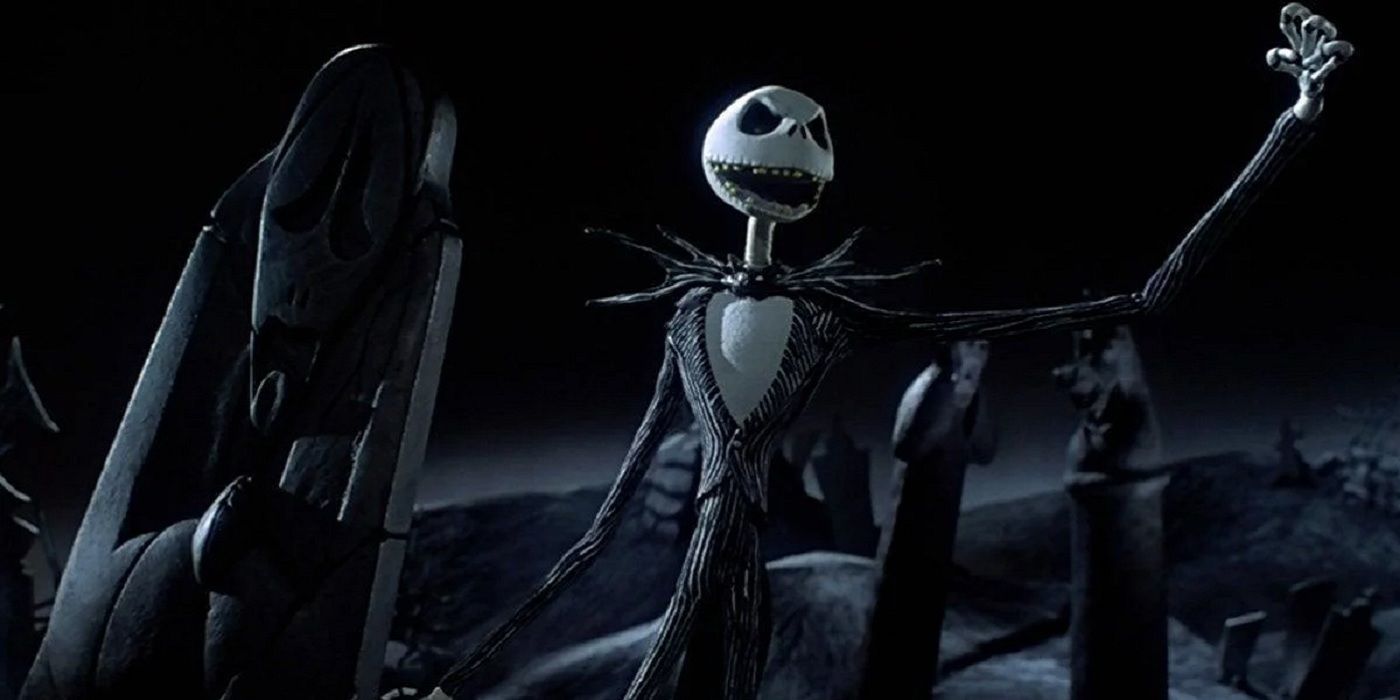 For the last three decades Nightmare Before Christmas has been horrifyingly delighting new and old viewers alike thanks to its brilliant stop-motion animation, chilling songs, and memorable characters. In a modern world where CG animation has taken over, Nightmare remains a refreshing gothic genre bending multi holiday coming-of-age story that moves you as much as it haunts your soul. Whether it's Danny Elfman's wonderful musical score, nightmare inducing characters like Ooge Boogie, or the thick atmosphere, Nightmare never gets old. RSVLTS perfectly captures the franchise's frightful spirit and art style. While there's most likely never going to be a sequel to Nightmare, these kinds of collections are keeping Jack Skellington more pop culture relevant each and every year.
The Nightmare Before Christmas is currently streaming on Disney+. However, if you want to see the film on the big screen then you're in luck because Nightmare is coming back to theaters this October for its 30th anniversary. Until then, you can view the RSVLTS Nightmare collection below and purchase the items on their website.