Summary
Breaking Bad stars Bryan Cranston, Krysten Ritter, and Bob Odenkirk reunite for new images taken at a recent celebrity poker game.
The images come 14 years after the release of season 2 episode "Phoenix," the episode in which Cranston's Walt watches Ritter's Jane die.
Jane's death marked a turning point for Walt in Breaking Bad, with death increasingly seen as a way to solve problems.
Breaking Bad stars Bryan Cranston, Krysten Ritter, and Bob Odenkirk are all smiles in new reunion images that come 14 years after the show's most tragic character death. Created by Vince Gilligan, the hit crime drama first premiered on AMC back in 2008 and is now known as one of the best TV shows ever made. The series, which chronicles the downfall of Cranston's Walter White, sees the death of a number of characters over the course of its 5-season run, but the death of Ritter's Jane in season 2 still hits especially hard.
Now, in a mini Breaking Bad reunion, Ritter reunites with Cranston and Odenkirk (who played crooked lawyer Saul Goodman) in a series of images posted to her Instagram stories. Check out the images, as captured by CinemaBlend, below:
The pictures were taken at Cranston's recent celebrity poker night, which was organized to raise money for the Entertainment Community Fund. While Walt and Jane would become enemies in the show, it's clear that there's nothing but love between the actors themselves.
Jane's Death Marked A Turning Point For Breaking Bad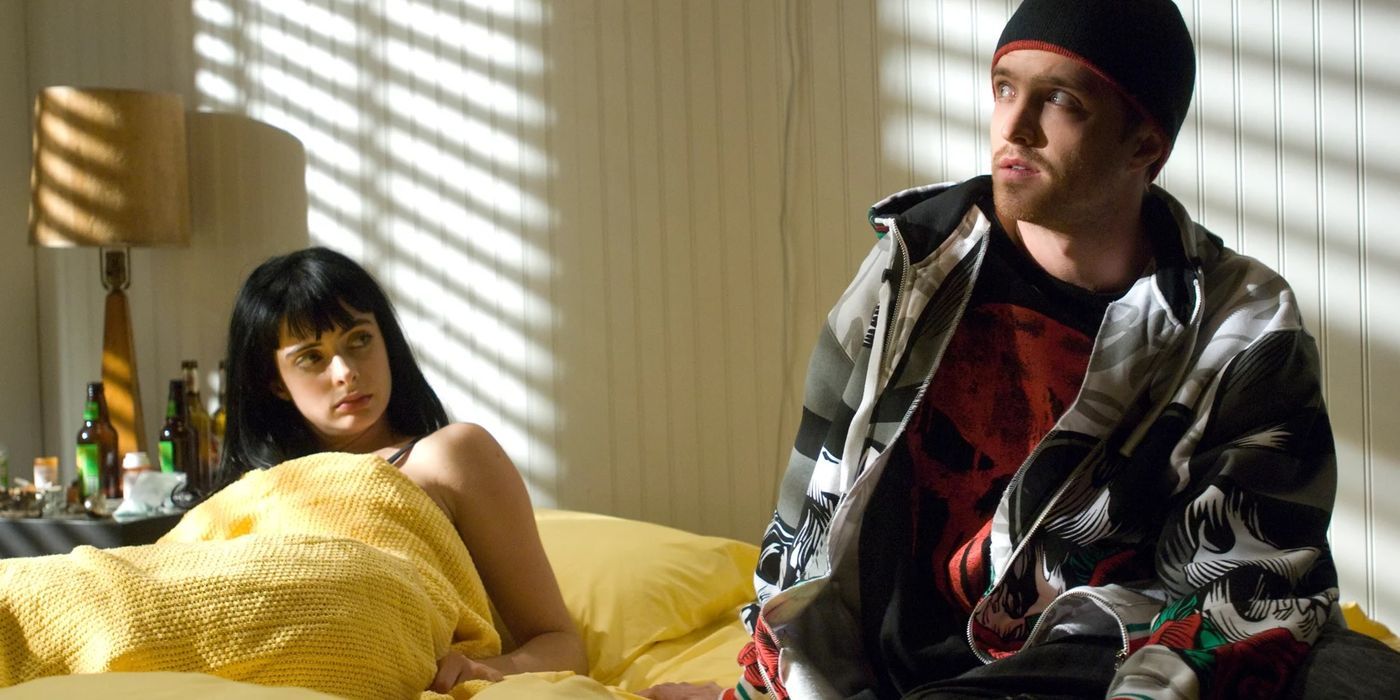 Breaking Bad's Walt kills numerous characters throughout the show, but Jane's, in the season 2 episode "Phoenix," remains one of the show's most tragic demises. Towards the end of season 2, Jane is increasingly coming between Jesse (Aaron Paul) and Walt, and it begins to affect business. The end of the episode sees Walt finding the pair passed out after using heroin in their home and, after inadvertently knocking Jane onto her back, he stands by and watches her choke to death on her own vomit.
Walt's first kill comes in season 1 with Krazy-8 (Maximino Arciniega), a violent drug dealer. While this death marks the start of Walt's downfall, in many ways, it's Jane's death that truly signals just how cold and calculating Cranston's character could be. Jane suffers from addiction and is a true innocent in the story (not to mention someone that Jesse cares deeply for), and Walt letting her die marks the first time that he facilitates someone's death for convenience rather than necessity.
Jane's Breaking Bad death allows Walt's business partnership with Jesse to continue with fewer distractions and interruptions. Walt would learn all the wrong lessons from this experience, coming to see violence and death as increasingly viable options when it comes to solving problems. Walt also then lies about his involvement in Jane's death to Jesse, further signaling just how manipulative and cold he would become regarding the people in his life.
Source: Krysten Ritter (via CinemaBlend)
Release Date:

2008-01-20

Cast:

Dean Norris, Bob Odenkirk, Aaron Paul, RJ Mitte, Anna Gunn, Giancarlo Esposito, Betsy Brandt, Bryan Cranston, Jonathan Banks

Genres:

Crime, Drama, Thriller

Seasons:

5

Summary:

Breaking Bad, created by Vince Gilligan, follows a chemistry teacher turned drug kingpin named Walter White (Bryan Cranston) as he attempts to provide for his family following a fatal diagnosis. With nothing left to fear, White ascends to power in the world of drugs and crime, transforming the simple family man into someone known only as Heisenberg.

Story By:

Vince Gilligan

Writers:

Peter Gould, Gennifer Hutchison, Vince Gilligan, George Mastras, Moira Walley-Beckett, Sam Catlin, Thomas Schnauz

Network:

AMC

Streaming Service:

Netflix

Franchise(s):

Breaking Bad

Directors:

Vince Gilligan, michelle maclaren

Showrunner:

Vince Gilligan