The Big Picture
Emerald Fennell's sophomore feature, Saltburn, may not fit neatly into the horror genre, but it promises to be a heart-pounding psychological thriller.
Fennell, a self-proclaimed horror fiend, expressed her love for the genre and hopes to eventually direct a full-fledged horror movie.
Fennell reminisces about her favorite episode of Are You Afraid of the Dark?, citing "The Tale of the Frozen Ghost" as a memorable and chilling tale.
Although it wasn't filled with slashers or mysterious phone calls, Emerald Fennell's feature-length directorial debut, Promising Young Woman, is what many would consider to be a too-close-to-home horror film. The powerful piece of cinema tells a haunting story of one woman's quest to seek revenge on the men who raped her best friend, a heinous act that would ultimately lead to the woman's suicide. While it wasn't an outright horror flick, the dark undertones and twisted characters provoked an on-edge feeling throughout the film, which would go on to nab five Oscar nominations, taking home the award for Best Original Screenplay — an honor that would go to Fennell.
Now, moving onto her sophomore feature, while it again isn't what audiences would typically consider being filed under the horror genre, Saltburn still promises to be a pulse-pounding psychological thriller. During a conversation with Collider's Perri Nemiroff, Fennell teased her future surrounding an immersive dive into horror, with the duo also dishing on their favorite episodes of the ever-classic series, Are You Afraid of the Dark?
When asked by Nemiroff if she had any plans to do "a full-fledged horror movie," Fennell responded with a certain, "Definitely," adding, "I don't know that it will necessarily be the next thing, but I am a horror fiend. I think horror is the greatest. It's the greatest." Noting that it's been a huge year for the genre, with money-makers including Five Nights at Freddy's, Scream VI, and M3GAN, scaring up millions at the international box office, she says, "And it's so exciting now that horror movies seem to be getting their just deserve. They're getting their due." Further digging into the genre and its place in the history of cinema, Fennell said,
"Horror was one of the first movie mediums, right? Horror and romance — the Gothic. That's what movies were made to do. So, yeah, absolutely. I hope so one day."
Is Emerald Fennell Afraid of the Dark?
As a fellow Are You Afraid of the Dark? fan, naturally Nemiroff asked Fennell what her favorite episode of the iconic horror series is — "Okay, I think it's everyone's favorite," Fennell says of her choice tale from The Midnight Society. She continued:
It's Melissa Joan Hart, "I'm cold." It's the boy standing outside her window saying, "I'm cold." And the twist is that it's a boy who died because he didn't have his sweater? And it was in a log? And I was like, 'Oh, how can I be both so terrified of this, but also so moved by Sabrina the Teenage Witch?'
For those who want to walk down the same path of terror that paved the way for Fennell's horror obsession, the episode in question is the seventh title in the show's second season, "The Tale of the Frozen Ghost."
Check out the trailer for Saltburn below and catch it in theaters in the U.K. on November 17, with a wide release in the U.S. on November 22.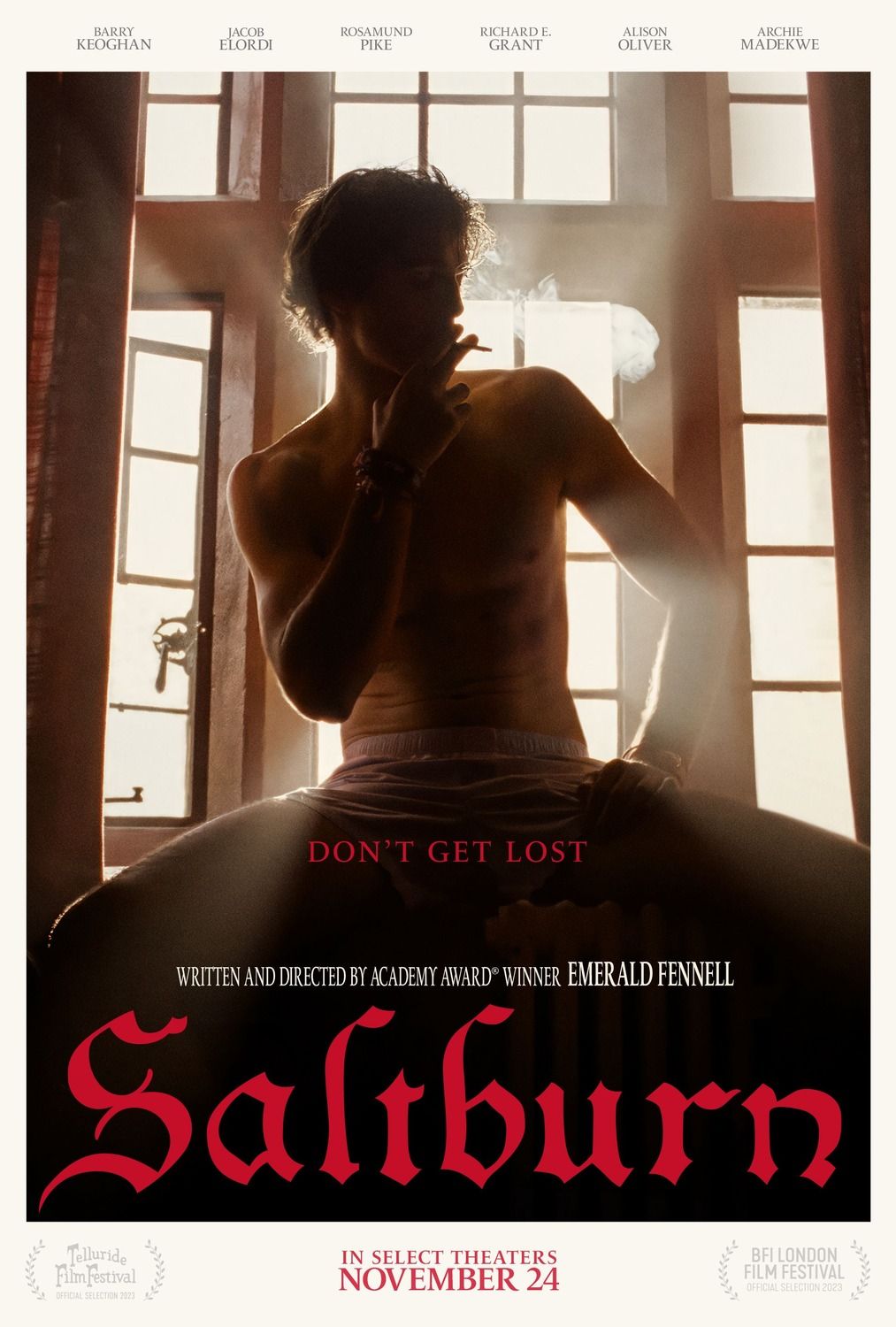 Struggling to find his place at Oxford University, student Oliver Quick finds himself drawn into the world of the charming and aristocratic Felix Catton, who invites him to Saltburn, his eccentric family's sprawling estate, for a summer never to be forgotten.
Release Date

November 17, 2023

Director

Emerald Fennell

Cast

Rosamund Pike, Barry Keoghan, Jacob Elordi, Carey Mulligan, Archie Madekwe

Rating

R

Runtime

127 minutes

Main Genre

Drama

Genres

Comedy, Drama, Thriller