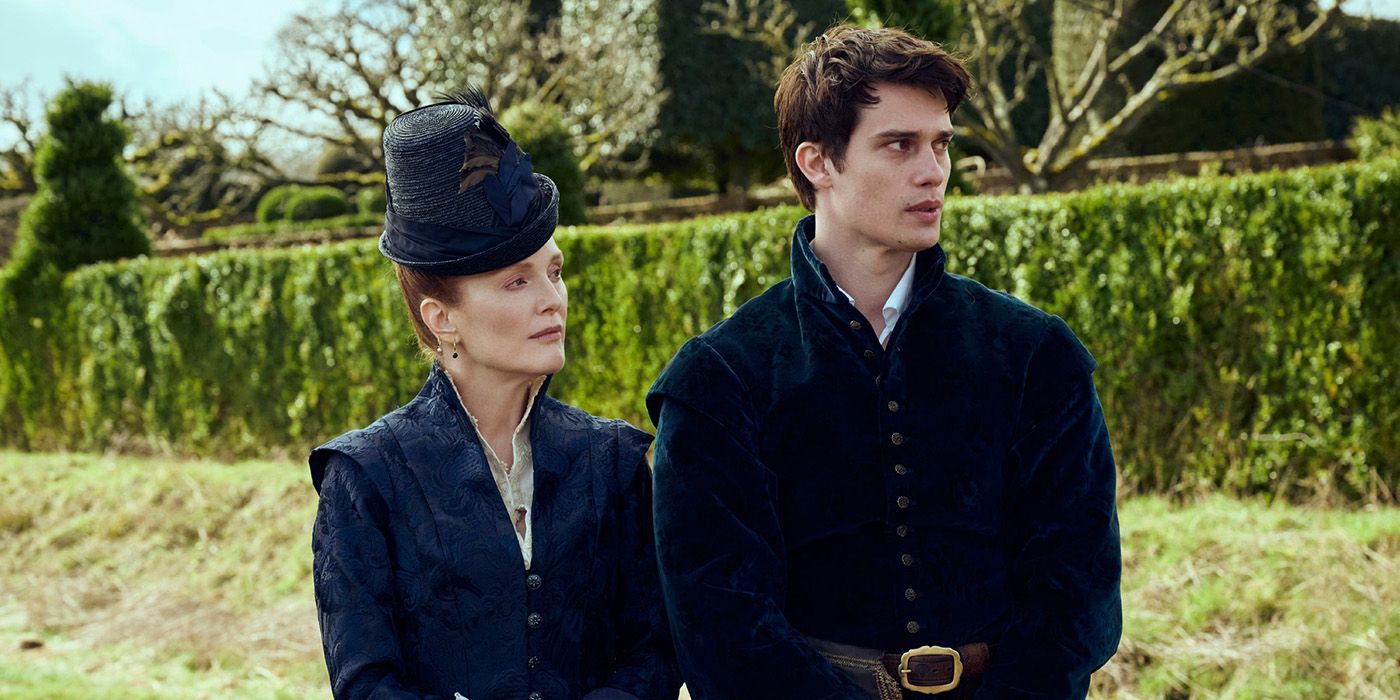 The Big Picture
Julianne Moore stars as the ambitious Mary Villiers in the upcoming miniseries Mary & George, which promises to be a sexy and bloody journey through 17th-century England.
The series explores the captivating relationship between Mary's son, George, and King James I, as George rises to power and becomes a favorite of the monarch.
Based on real historical figures, Mary & George delves into the ambitions and political intrigue surrounding George, who eventually becomes the Duke of Buckingham but is despised by the British populace and meets a tragic end.
Julianne Moore has her eye on the throne in the new teaser for Mary & George. The seven-episode miniseries will air on Starz next year. In the new teaser, Moore plays the ambitious Mary Villiers, who has a hunger for power that, as a woman in Jacobean England, she can never slake. However, her son George (Nicholas Galitzine) is handsome, charismatic, and utterly subservient to his mother's whims; what's more, he's captured the attention of King James I (Tony Curran).
As George becomes James' new lover, the series promises to cut a sexy, bloody, profane swath through 17th-century England. Mary & George was originally set to air on AMC, but will now be broadcast by Starz, where it will join their slate of handsome period dramas, including Outlander, The Serpent Queen, and the upcoming Spartacus: House of Ashur. The series is scheduled to air in 2024; no specific release date has been set.
Who Were the Real Mary and George?
Mary Beaumont was penniless when she married the wealthy farmer Sir George Villiers and bore him four children before his death. She saw great potential in her second son, who was also named George, and ensured he had the finest education available. He caught the attention of England's new king, James I, and soon became his "favorite." A favorite was the intimate companion of a monarch — sometimes a lover, sometimes a platonic friend. Scholars currently disagree on the romantic nature of George and James' relationship. The concept was recently explored in the Yorgos Lanthimos film The Favourite.
George amassed a great deal of political power and influence, eventually becoming the first Duke of Buckingham; he also ingratiated himself with James' son, Charles. Thus, after James' death in 1625, George retained his influence under Charles I. However, he developed a reputation for incompetence and arrogance in matters of state and came to be widely loathed. George was ultimately assassinated by a disgruntled army officer in 1628 and was so despised by the British populace that his assassin was hailed as a hero. Mary died four years later, and her ambitions were ultimately thwarted.
Mary & George is based on Benjamin Woolley's non-fiction book The King's Assassin. It was created by D.C. Moore (Killing Eve) and directed by Oliver Hermanus (Living). Liza Marshall will executive produce for Hera Pictures alongside D.C. Moore, Hermanus, and Julianne Moore. Sam Hoyle will executive produce for Sky Studios.
Mary & George will air on Starz in 2024. Stay tuned to Collider for future updates, and watch the new teaser below.