Summary
Spock failed to teach Picard the importance of socializing, as seen in their conversation in Star Trek: Picard's Academy #2.
Despite Spock's good intentions, forcing Picard to attend a party instead of studying for his exam may have been a mistake.
The issue highlights Spock's error in judgment and failure as Picard's first Star Trek mentor.
Warning: contains spoilers for Star Trek: Picard's Academy #2!
Mister Spock failed Jean-Luc Picard as his first mentor, and now Star Trek has explained how. Over the years, Picard has had several father figures and mentors who guided him along the way to becoming one of Starfleet's greatest captains. IDW's new Picard's Academy series shows the titular hero in his formative years, and in issue two, he has a heart-to-heart with Spock, but the cadet learns nothing from it.
Star Trek: Picard's Academy #2 is written by Sam Maggs and drawn by Ornella Greco. Cadet Picard explains to Spock why he is not going to a classmates' party. He tells Spock his studies are more important, and that any friends he makes will be transient at best. Spock tries to explain to Picard that knowing those under his command is the hallmark of a good officer.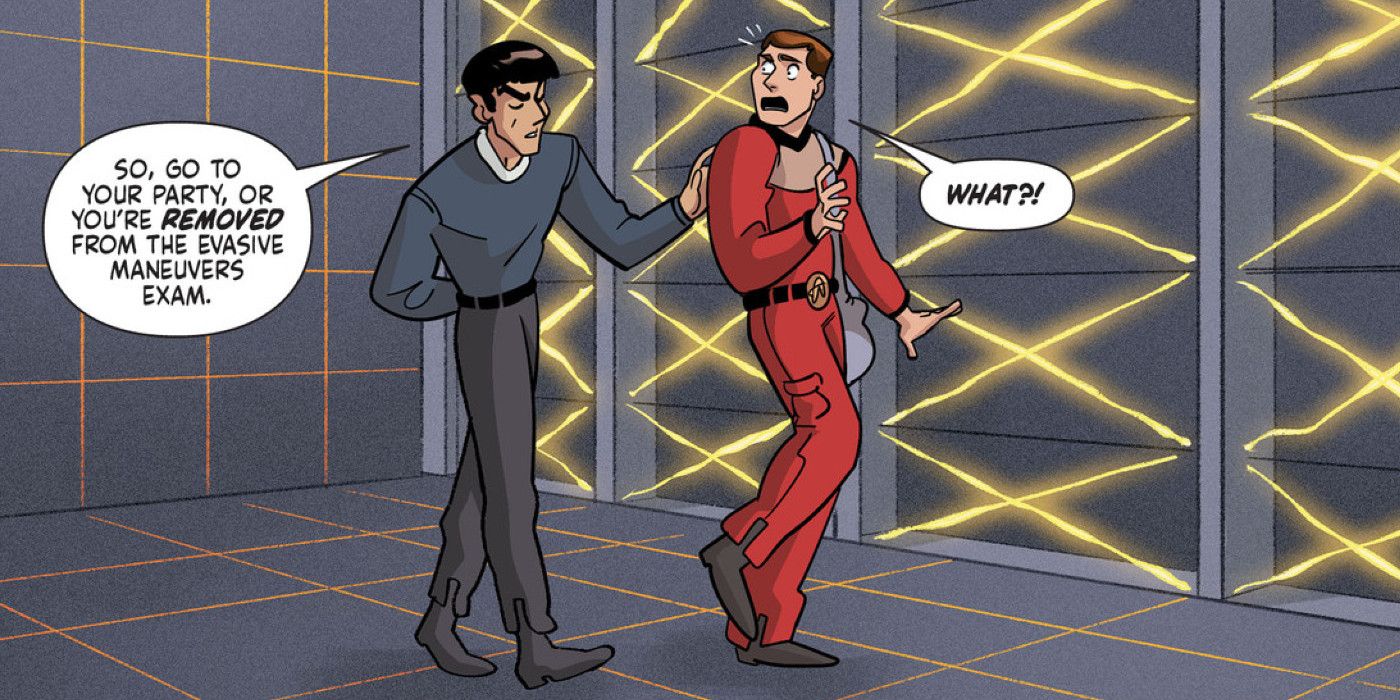 Spock then forces Cadet Picard to attend the party instead of studying for his evasive maneuvers exam.
Jean-Luc Picard Was Taught by the Best
In his distinguished career with Starfleet, Captain Picard faced foes that would chill the blood of most people, but in Picard's Academy, his biggest worries are good grades. Star Trek: The Next Generation established that Picard had an almost single-minded desire for a career in Starfleet, and was willing to sacrifice a personal life in pursuit of it. Fans have met some of Picard's instructors in the series, and were surprised to learn Spock was one of them. Spock sees the potential for greatness in Picard, and wants to nurture it. Spock is not one for socializing either, but he tells Picard the importance of doing so.
The sixth season Next Generation episode "Tapestry" provided a fascinating look at what Picard's life coulld have been.
However, as seen in Star Trek: The Next Generation, Picard had trouble with this lesson. For most of the show's run, Captain Picard rarely socialized with his crew on the Enterprise. The other senior officers held regular poker games, but Picard did not join them until The Next Generation's series finale. In that episode, Q pushes Picard through time, ostensibly to fix a spatial anomaly. However, Q was also trying to convince Picard of the same lesson Spock was trying to teach him. In a future timeline, Picard sees how his crew has drifted apart and is even hostile to each other–and he does not want to see it again.
Related: Spock's New Starfleet Rank Brings an Original Series Death Full Circle
Did Spock Make a Mistake?
While Q was able to get through to Picard, Spock was not. This is not necessarily a failing on Spock's part, as Picard was still young, arrogant and head-strong, but the Vulcan did not impress this lesson upon the cadet enough. Forcing Picard to attend the party may not have been the wisest course of action either, despite Spock's good intentions. Perhaps Spock, sensing Picard's uneasiness in social situations, thought forcing him to confront his fears would help. While it remains to be seen how the party will turn out, it is clear Spock made an error in judgment, and failed as Picard's first Star Trek mentor.
Star Trek: Picard's Academy #2 is on sale now from IDW Publishing!