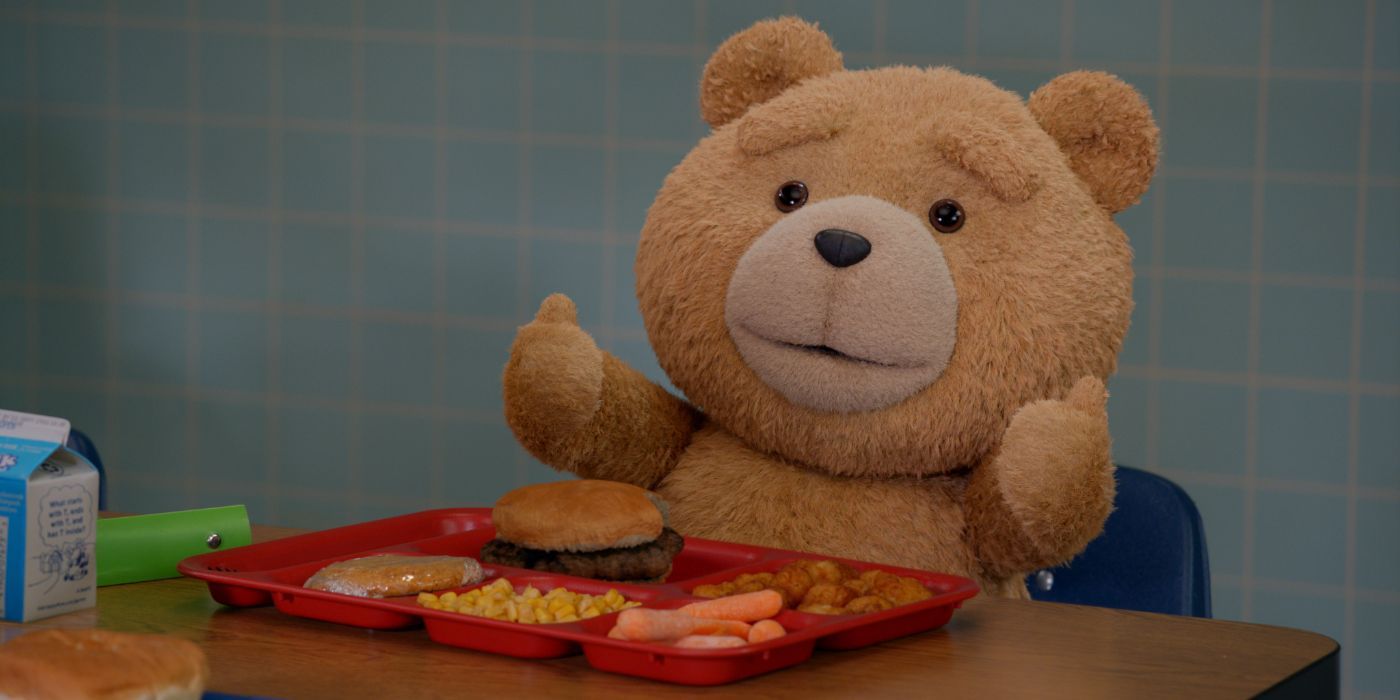 The Big Picture
The upcoming Ted prequel series follows 16-year-old John Bennett and his foul-mouthed teddy bear friend Ted as they navigate the challenges of adolescence in the early '90s.
Seth MacFarlane, the creator and star of Ted, is heavily involved in the series as executive producer, writer, director, and co-showrunner.
The regular cast includes Max Burkholder, Alanna Ubach, Scott Grimes, and Giorgia Whigham. The series premieres on January 11, 2024, on Peacock.
The thunder buddies are back for more. Nearly nine and a half years following the release of Ted 2, another rendition of Seth MacFarlane's foul-mouthed talking teddy bear is on the way, this time with Peacock's seven-episode Ted prequel series. The upcoming show follows its title character and his human best friend in their earlier days together. Today, Peacock shared the first teaser and a round of new images from the series. Ted is set to debut all episodes at the top of next year on January 11.
The Ted prequel series brings viewers back in time a few decades, introducing a 16-year-old John Bennett (Max Burkholder) as he navigates being a teenager in the early '90s. Luckily, John doesn't have to struggle alone, with his best friend Ted (MacFarlane) by his side through the highs (literal and otherwise) and lows of adolescence. Together, the pair can handle anything, and Ted — despite being a less-than-ideal influence on John — is willing to do what it takes to be a good friend.
The first teaser for Ted is a fourth wall-breaking return to the stuffed bear audiences have come to know and love from the original movies, as 1993 Ted pens a letter to 2023 Ted sharing the news about the series. Past Ted is full of optimism for his future self, listing out all the things that definitely haven't happened in 2023 and poking some fun at being a returning character. The photos themselves offer a little more specific look at what to expect. They showcase MacFarlane back as Ted, with Burkholder filling the shoes previously worn by Mark Wahlberg in the movies. Though most plot details are still being held close to the chest, John's family will be an integral part to the Ted series as well.
Who Created and Stars in the 'Ted' Prequel Series?
Along with starring in Ted, Seth MacFarlane serves as executive producer, writer, director, and co-showrunner for the series. He previously co-wrote and directed both Ted movies. Modern Family and King of the Hill alums Paul Corrigan and Brad Walsh executive produce, write, and co-showrun Ted. Additional executive producers include Erica Huggins, Alana Kleinman, Jason Clark, and Aimee Carlson of Fuzzy Door Productions. UCP — a division of Universal Studio Group — Fuzzy Door, and MRC produced. The series' regular cast includes Burkholder, MacFarlane, Alanna Ubach as John's mother Susan, Scott Grimes as John's father Matty, and Giorgia Whigham as John's cousin Blaire.
Ted premieres Thursday, January 11, 2024, on Peacock. Watch the teaser below: