The Big Picture
Prue Leith, a judge on The Great British Baking Show, was pleasantly surprised by the similarities between the British and American versions of the show.
Despite their lack of baking skills, the celebrity contestants on The Great American Baking Show: Celebrity Holiday bring enthusiasm and effort to the competition.
Prue Leith appreciates the kindness and fun atmosphere of both the regular and celebrity versions of the baking show.
When The Great British Baking Show hit American streaming platforms, its warm and fuzzy good feelings made it an instant classic. There is something cozy about watching British people be kind to each other while making tasty baked goods, and American audiences flock to it each new season. The Great American Baking Show has managed to capture the same comfort and warmth that its British predecessor has; at least according to Prue Leith.
Prior to joining The Great British Baking Show in the 8th season, Prue Leith had been a well-known name in the culinary world. Her resume is vast and impressive. She opened her restaurant, Leith's, in 1969, and it would later earn a Michelin star. She has culinary schools in London and South Africa and, technically, should be referred to as Dame Prue Leith. With such an impressive resumé, Prue was a natural choice to join Paul Hollywood as a judge on The Great British Baking Show. Before joining, Prue was a judge on The Great British Menu, which focused on four-course meals. According to Prue, GBBS is a delight in comparison to the challenge of judging four courses. Prue told us in an interview, "People think eating so much cake must be exhausting, but you know, you can taste the whole of a cake in a teaspoon. You can get in one teaspoon, you can get the cake, the filling, and the icing all in one mouthful."
Pure Leith Says 'The Great American Baking Show: Celebrity Holiday' and 'GBBS' Have A Lot In Common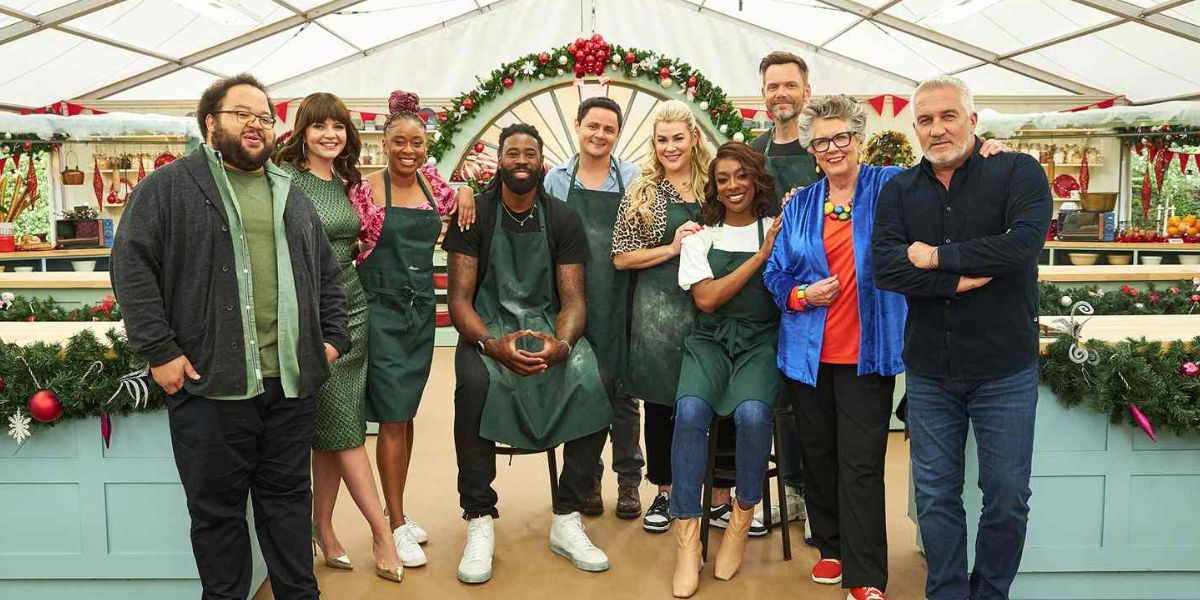 Prue was hesitant to join the American franchise, having seen the best of the worst in American reality TV. She said, "I'd seen lots of American competitive shows, where the competitors are so competitive, and they're so in your face, and they're so determined to win, and they're quite up to sabotaging their rivals, and crying foul." She was pleasantly surprised by the experience, seeing that it is impossible to sabotage anyone when surrounded by sweet treats. Prue said, "They just are nice people. And I must say, I was surprised because they're every bit as nice as the Brits; you know, it's been fun." And those feelings translate even into the realm of celebrity. The Great American Baking Show: Celebrity Holiday still has all the kindness and fun of the regular series, even if the bakers are not as well-versed in the kitchen. When asked about the celebrities' baking skills, Prue said, "Generally, celebrities tend not to be great bakers. I mean, they're there because they've been asked to do it and because they think it'll be fun, usually because they watch Bake Off, and so they've accepted the invitation because they thought, 'Oh, I'd love to do that,' because they love the show." And that is certainly clear with the enthusiasm of the celebrity cast. Despite the lack of skills, Prue did notice and appreciate the efforts made by the celebs. She shared, "Of course, they tend to be very busy. So they probably haven't practiced. They might have been; some of them haven't even read the recipe before they arrive because, of course, they can choose their own recipes and they can do a lot of work before if they want to. And some of them do. And then it's wonderful."
The Great American Baking Show: Celebrity Holiday is streaming now on The Roku Channel.