Summary
Cosplayer @tim_de_wolf perfectly replicates Gomez Addams' '90s appearance in a tribute to Raul Julia's iconic portrayal.
The '90s Addams Family movies, directed by Barry Sonnenfeld, remain beloved classics with a strong cult following.
Raul Julia's portrayal of Gomez Addams is considered the ideal take on the character, and the cosplay captures his outfit and personality perfectly.
New Addams Family cosplay perfectly replicates the appearance of the '90s version of Gomez portrayed by Raul Julia. The 1991 film adaptation of Charles Addams' darkly comedic characters was directed by Barry Sonnenfeld and followed the family reuniting with a previously missing Uncle Fester (Christopher Lloyd) amid a plot to steal their fortune. Julia would reprise his role in the 1993 sequel Addams Family Values, where the family deals with new additions to their ranks, though one has sinister intentions for Fester.
With Sonnenfeld's Addams Family movies remaining beloved classics, cosplayer @tim_de_wolf has set out to replicate Julia's portrayal of Gomez, with photographer @themedshots sharing his work on Instagram.
Taken during Halloween Horror Nights at Universal Orlando Resort, the cosplayer has replicated Gomez's black pin-stripe suit, alongside his neatly combed hair and short mustache. To complete the full ensemble, @tim_de_wolf has taken a cigar as an accessory, featuring all the elements that are iconic to the character.
Raul Julia's Addams Family Movies Remain Influential Cult Classics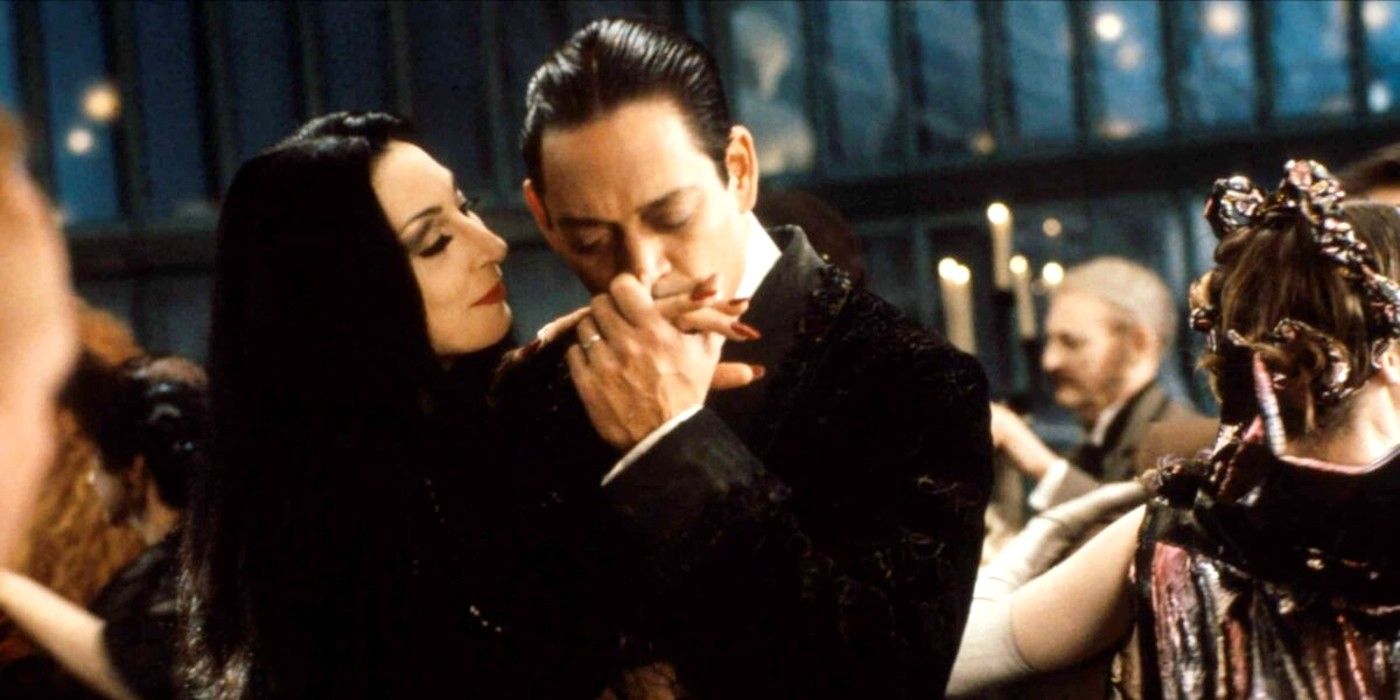 For many, the '90s Addams Family duology is a beloved depiction of the franchise's popular characters. While the original comics and the 1964 television series helped the franchise rise in popularity, 20th Century Fox and Sonnenfeld's production was a box office success despite its mixed reception from critics. As both movies have been viewed by subsequent generations since their release, they have only gathered a stronger cult following that has helped them endure the test of time.
Related: Every Addams Family Movie Ranked From Worst To Best
While the two Addams Family movies left a lasting impact and a number of award nominations, the series was ultimately concluded after the second. With a box office total significantly lower than 20th Century Fox had envisioned and the passing of Julia in 1994, Sonnenfeld did not move ahead with any follow-up. However, the movie did revive interest in the franchise at the time, leading to new television productions, while Wednesday Addams star Christina Ricci would return to the franchise in a different role in Netflix's 2022 TV series Wednesday.
Julia's portrayal of Gomez Addams remains the ideal take on the character for many. Between the actor's chemistry with Anjelica Huston's Morticia and his banter with Fester, Julia has been held as the standard subsequent portrayals have been compared to. As such, the above cosplay is a perfect tribute to the actor's work, perfectly capturing the outfit and personality of his take on The Addams Family's patriarch.
The Addams Family and Addams Family Values are currently streaming on Paramount+.
Source: @themedshots/Instagram
Release Date:

1991-11-22

Director:

Barry Sonnenfeld

Cast:

Anjelica Huston, Raul Julia, Christopher Lloyd, Christina Ricci, Jimmy Workman, Judith Malina, Carel Struycken, Christopher Hart, John Franklin

Rating:

PG-13

Runtime:

99 Minutes

Genres:

Comedy, Fantasy, Horror

Writers:

Caroline Thompson, Larry Wilson

Budget:

$30 Million

Studio(s):

Paramount Pictures, Scott Rudin Productions

Distributor(s):

Paramount Pictures

Sequel(s):

Addams Family Values

Franchise(s):

The Addams Family