Highlights
Yowamushi Pedal, a popular sports anime, is celebrating its 10th anniversary with special cakes that fans can buy and enjoy.
The cakes include small cake "cans" decorated with characters from the anime's main teams, as well as a sheet cake with customizable cake toppers.
The cakes are available to order online in Japan, with prices ranging from 1,000円 ($6.65 USD) for the can cakes to 6300円 ($42 USD) for the sheet cake. Buying 5 or more can cakes also comes with a limited edition dessert spoon.
2023 has been a big year for anime anniversaries, and Japan always knows how to celebrate these special occasions in style. This time, the anime that is being celebrated in Yowamushi Pedal, one of the most popular sports anime when the genre was really making waves in the anime world. Yowamushi Pedal turned 10 years old this year, and while it may not be as popular as it was a decade ago, that hasn't stopped its milestone from being marked in a uniquely delicious way.
We said delicious because instead of the usual new merchandise and art exhibitions, Yowamushi Pedal is ringing in its first decade with a different, but no less traditional, way of celebrating – with cake! The popular Japanese website cake.jp announced earlier this week that it would be releasing some very special cakes for Yowamushi Pedal fans to buy and eat as they remember the good times over the past ten years.
RELATED: 10 Sports Anime That Are Underrated
Yowamushi Pedal first aired in October 2013, and went on to air for five seasons, most recently in 2022. It was originally based on a manga, and also inspired anime and live-action movies, video games, and even a drama. The story follows the main character, an otaku named Sakamichi Onoda, who tries to make enough friends to start an anime club by joining the bicycle club at his school. He never expected to end up competing against other schools as a star member of the team when he started, but that's where he ended up.
A few different cakes are being released by cake.jp for the occasion. The first three are individual cake "cans," which are small cakes that fit into what looks like a soda can. They even have a pop tab at the top! The three cake cans are decorated with a character from each of the three main teams in the anime, Sohoku Gakuen, Hakone Gakuen, and Kyoto Fushimi Gakuen. The website encourages deciding which characters you want on the can by choosing to get friends, teammates, or even rivals when making your purchase. There are 21 characters available in total, and three flavors of cake.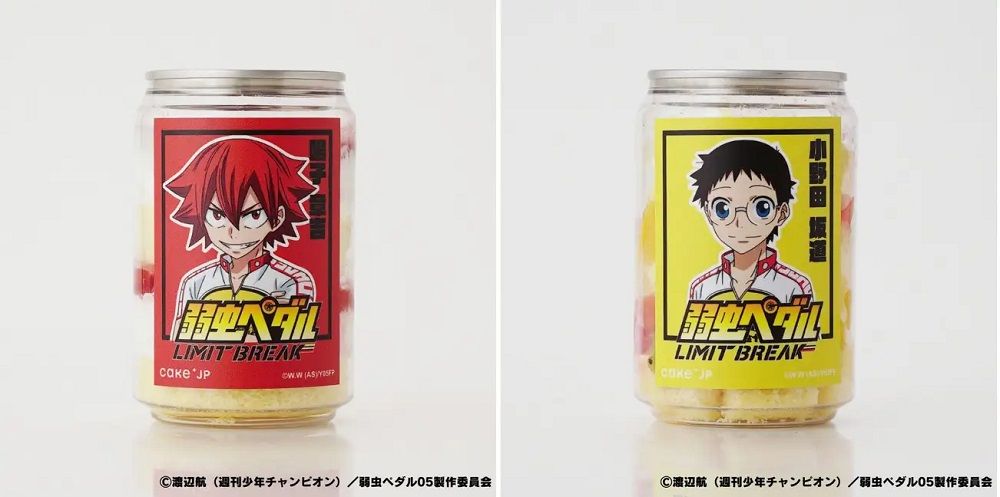 There is also another sheet cake available as well, which is brown and has a road design on the top. What makes this cake special is that you can choose which team, Sohoku or Hakone, to buy cake toppers from. These toppers come in a pack of six of the main characters from that team riding their bikes, and you can put them on the road along the top of the cake. It only comes in one flavor, chocolate shortcake, but chocolate is the best flavor for imitating the look of the ground and road after all.
The cakes became available to order online within Japan from cake.jp on November 11th, 2023. The can cakes cost 1,000円 ($6.65 USD) each, and the sheet cakes are 6300円 ($42 USD) each. Additionally, if you buy 5 or more of the can cakes, you can get a limited edition dessert spoon complete with a Yowamushi Pedal: Limit Break charm. Here is hoping even more anime start to celebrate their anniversaries in such a delicious way. We can't think of a better way to celebrate a milestone than with cake.
MORE: The Greatest Sports Anime Of All Time (October 2023)
Source: PR Times