The Big Picture
NECA has released a Thanksgiving collection centered around the masked killer from Eli Roth's new slasher film, including action figures, plushies, a mask, and a t-shirt bundle.
NECA is known for their high-quality horror figures, standing out in the action figure market.
The film Thanksgiving has received positive reviews and is the last major horror theatrical release of 2023, ending the year with a bang.
We're officially heading towards the holiday season. That means, for horror fans, it's festive slasher season. While Christmas usually gets to have all the blood-soaked fun in the genre, Eli Roth is giving the Thanksgiving holiday some love with the director's new turkey-filled slasher. Now, with the film killing its way to theaters this weekend, NECA has taken it upon themselves to amortize the genre's newest icon with a Thanksgiving collection.
The collection is centered around the film's masked killer, John Craver. The pilgrim-themed maniac is terrorizing Plymouth, Massachusetts and now has three new figures to his blood-red name. First, Craver has his own signature NECA seven-inch ultimate action figure with a Thanksgiving table size of accessories. This includes an arsenal of a musket, sledgehammer, knife, meat tenderizer, and a dart gun. The figure comes with a removable hat, three interchangeable masks, and three pairs of hands as well. The next figure is an eight-inch cloth edition that comes with a full fabric jumpsuit, a removable hat, two interchangeable masks, an axe, meat tenderizer, and a knife.
The last of the figures is from NECA's Saturday morning cartoon-inspired line "Toony Terrors". This six-inch figure comes with an axe and a severed turkey mascot's head. In addition to these high quality figures, the company's also releasing two adorable plushies of John Craver and the ill-fated turkey mascot. Finally, the last piece of this collection is a John Carver mask and t-shirt bundle. The Mask is a replica of the one the killer wears in the film, while the shirt is a horrifying fun Thanksgiving design of a knife-stabbed turkey oozing blood.
NECA Remains the Best in the Horror Business
Over the last number of years, NECA has made a name for themselves thanks to their high quality figures based on popular franchises. However, it's their horror figures that have gotten them the most notice. Whether it be for the classic Universal Monsters or for iconic slashers like Halloween or Scream, their seven-inch scale figures have been next to none. Most other action figure brands like Hasbro and McFarlane have focused on superheroes and Star Wars, but NECA's horror focus has made them stand out. When you get a horror figure from them, you know you made it as a film or franchise. Now John Craver can stand toe to toe with Michael Myers, Freddy Krueger, Jason Voorhees, and Ghostface, who have all received various action figures in the past.
'Thanksgiving's Making Horror Fans Eat Well
2023 has been another incredible year for the horror genre. With Thanksgiving being the last major theatrical genre release of the year, Roth ends it off with a stuffing drenched bang. Critics and audiences alike are raving over the film. Thanksgiving currently has a fresh 86% critics rating on Rotten Tomatoes. You can read Collider's own review here. Thanksgiving's NECA collection can also be pre-ordered on their website. John Craver's Thanksgiving reign of terror is in theaters now.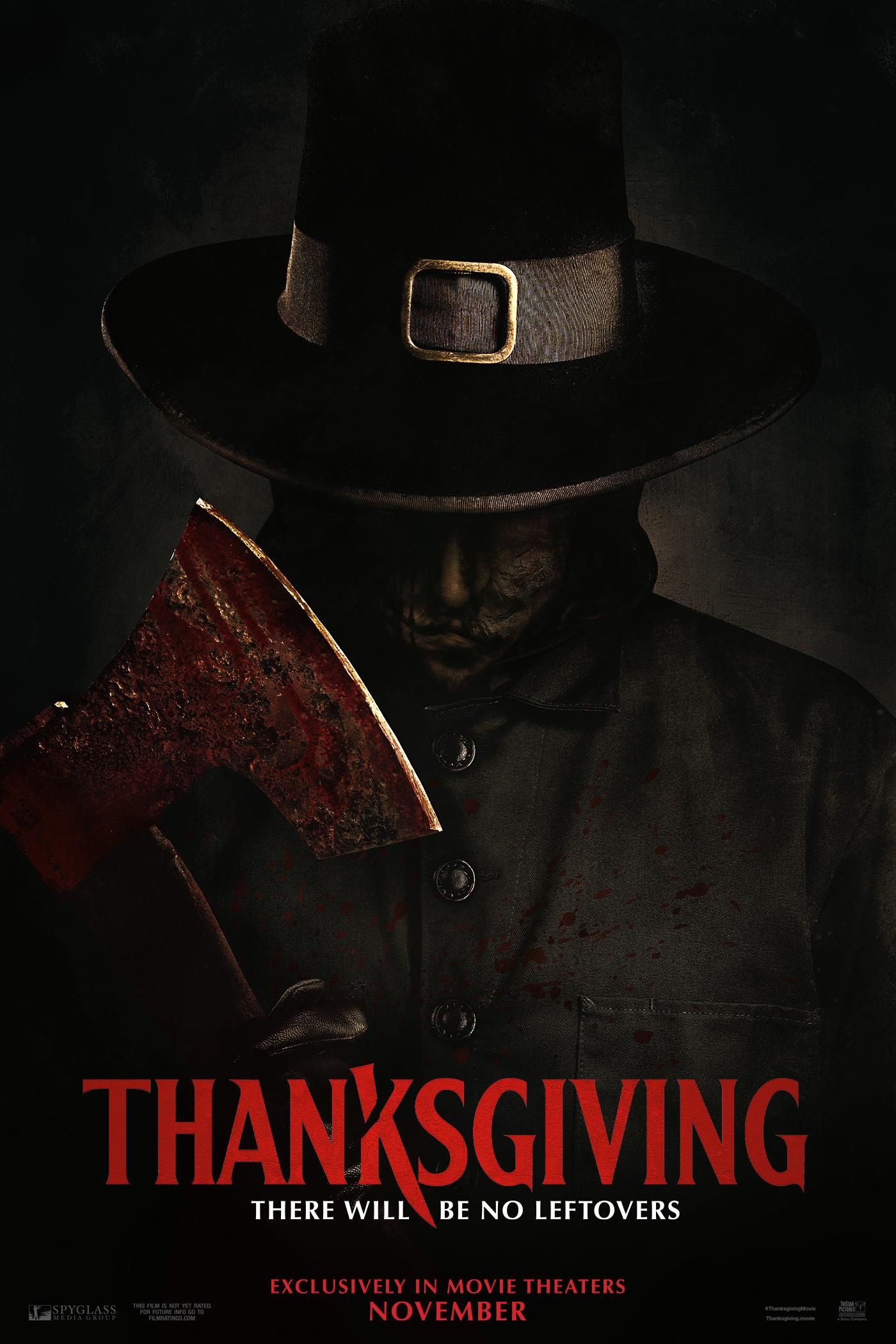 After a Black Friday riot ends in tragedy, a mysterious Thanksgiving-inspired killer terrorizes Plymouth, Massachusetts – the birthplace of the infamous holiday.
Release Date

November 17, 2023

Director

Eli Roth

Cast

Rick Hoffman, Gina Gershon, Patrick Dempsey, Milo Manheim, Addison Rae

Runtime

107 minutes

Main Genre

Horror

Genres

Horror, Mystery, Thriller

Writers

Jeff Rendell, Eli Roth