Even after players manage to beat Croco in Super Mario RPG, they do not have to wait long before the action kicks up again. Once Mallow has managed to get his Frog Coin back, players must return to the Mushroom Kingdom as part of the story. While the Mushroom Kingdom was peaceful when players first arrived, it is now under attack by a bunch of Shy Guys on pogo sticks.
As players investigate the castle, they will eventually come across the second boss in Super Mario RPG. The second boss, Claymorton, is always accompanied by his bodyguards, which makes him a tougher boss than Croco.
RELATED: Super Mario RPG: How to Get Through Kero Sewers
How to Beat Claymorton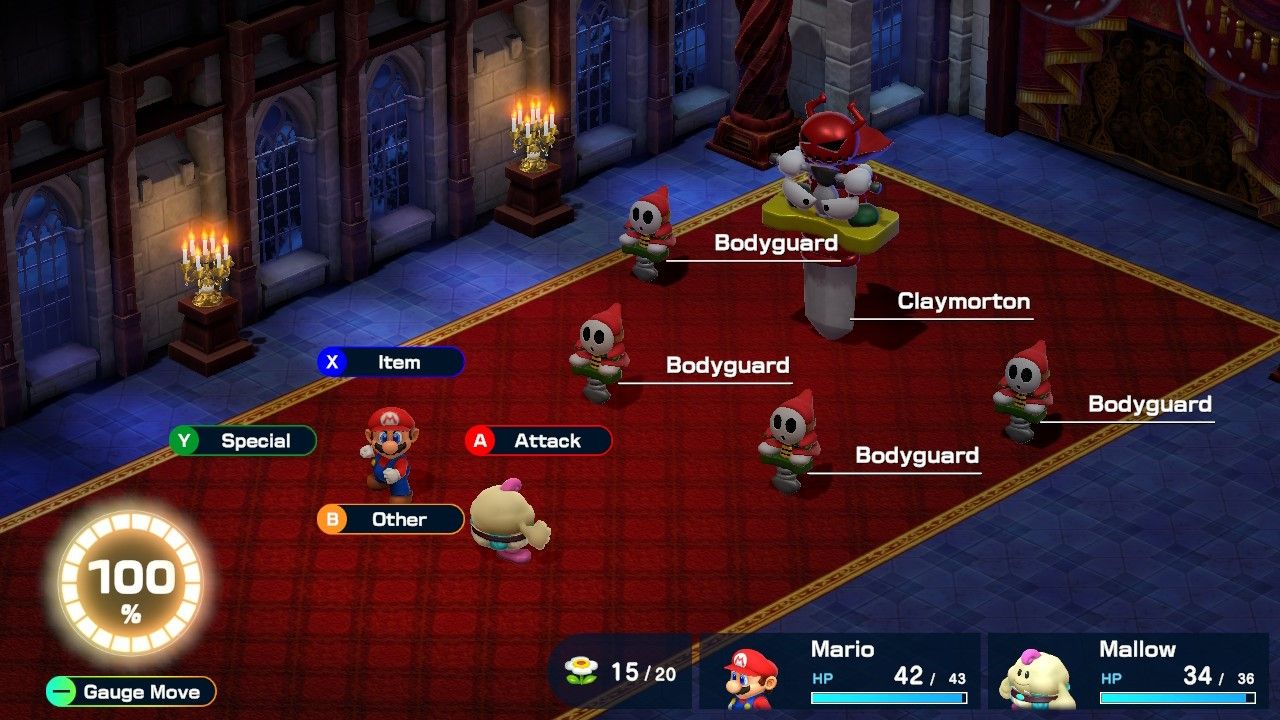 Before fighting Claymorton, players will want to make sure that they are fully stocked up on any supplies they need. While it is recommended to have both Mario and Mallow be at level five for this boss fight, it is possible to beat Claymorton while the party is at level four. Once players are ready for the next fight and have saved their game, Claymorton can be found in the throne room.
After the cutscene is over, players will have to fight both Claymorton and his four bodyguards. The bodyguards do the same physical attack as the enemies outside the throne room, along with their Hot Shot attack. Once all the bodyguards have been killed, four more will take their place a few turns later.
Claymorton has several attacks that players will need to watch out for. The first is a standard jump attack that does significant damage to a single character. He also uses a long range fire attack as well. Damage from both of these attacks can be reduced or nullified if players can successfully block.
As Claymorton gets low on health, he will begin to regularly cast Flame Wall. Since this attack hits the entire party, it cannot be blocked. Fortunately, this attack does less damage than his single target attacks.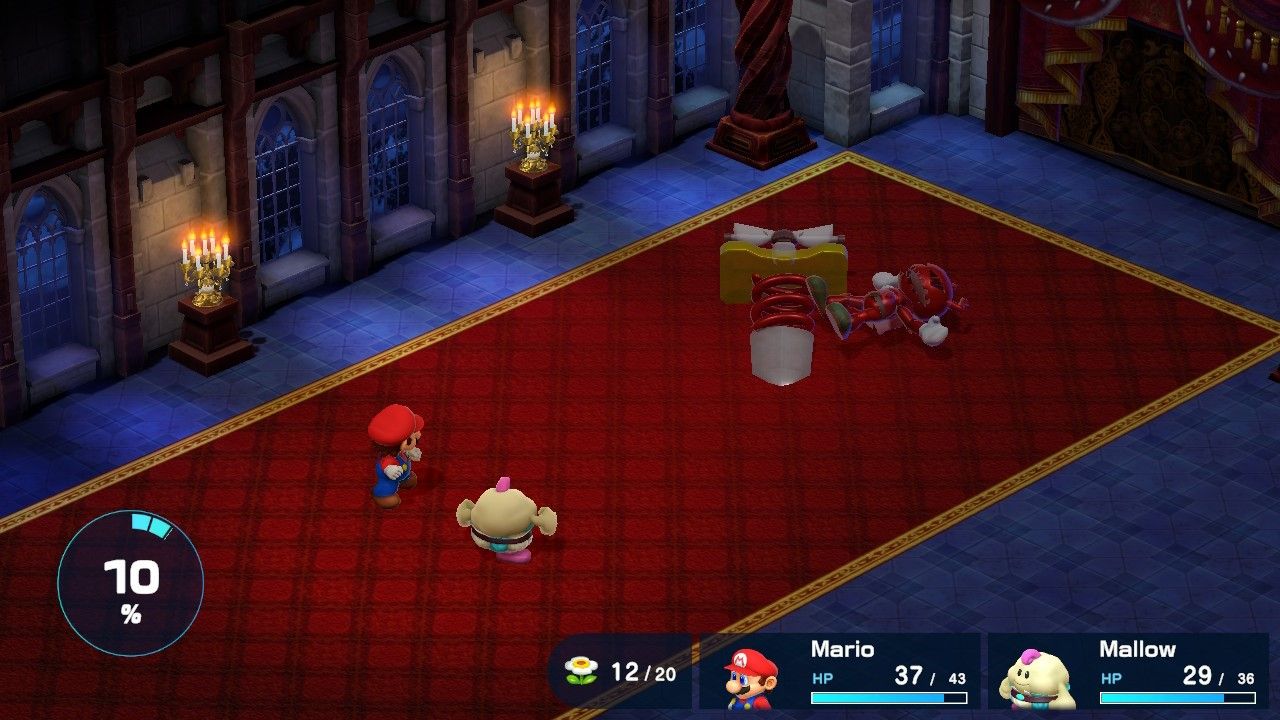 Claymorton is weak to electricity, so the best way to damage him is by having Mallow spam Thunderbolt throughout the fight. Using Thunderbolt allows players to do significant damage to Claymorton while also hitting all the bodyguards at once. The bodyguards usually die after being hit by two Thuderbolt attacks. Have Mario help damage Claymorton or have him use items to restore Flower Points so that Mallow can continue to hit the boss with Thunderbolt. Stay on the offensive and Claymorton will eventually fall.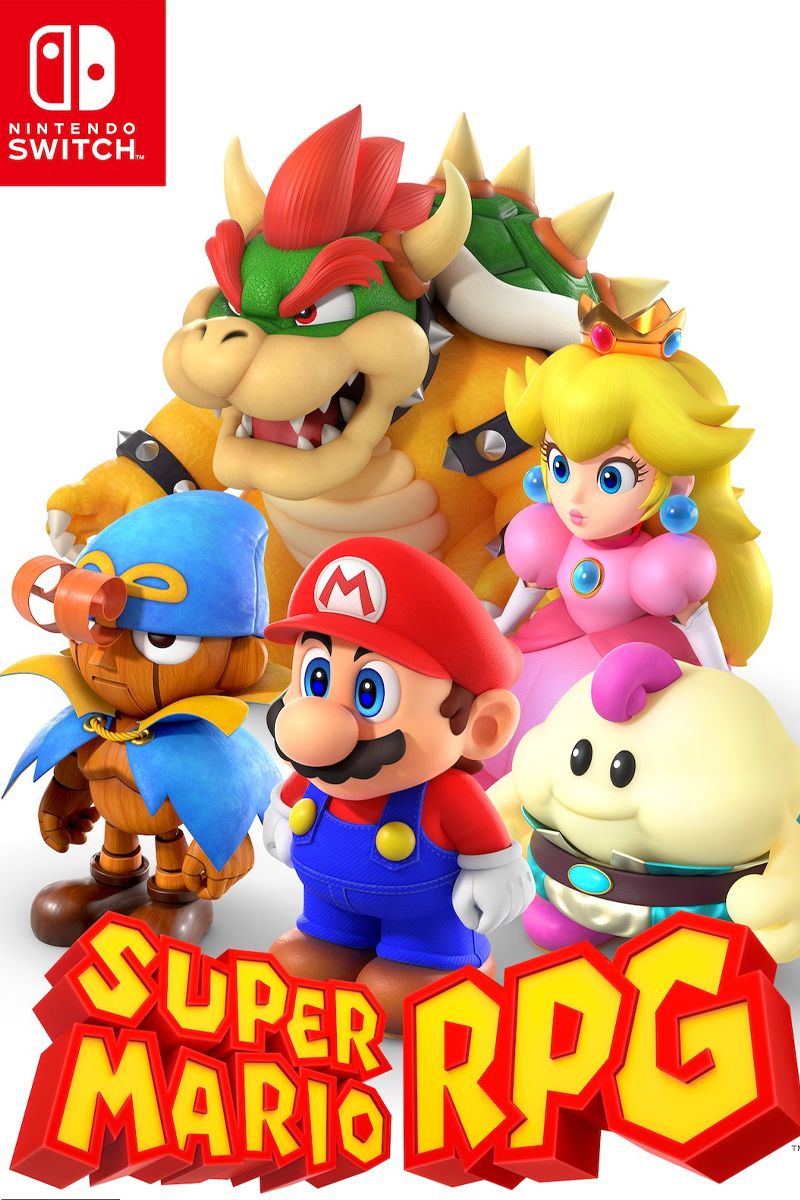 Platform(s)

Switch

Released

November 17, 2023

Developer(s)

Nintendo

Genre(s)

RPG